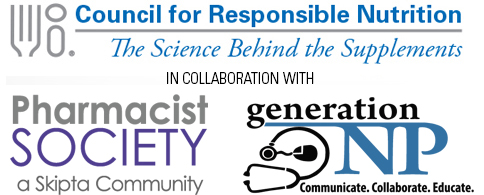 CRN and Skipta, the leading social network of specialized online medical communities for verified healthcare professionals, regularly partner to bring informative webinars about dietary supplements to pharmacists and nurse practitioners.
PAST WEBINARS:
MARCH 2016: "Safety by the Numbers:
Making Sense of Dietary Supplement Adverse Event Data"
with Rick Kingston, PharmD.
OCTOBER 2015: "The Role of Dietary Supplements in
Maintaining Cognitive Health and Mental Hygiene"
with James Greenblatt, M.D.
JUNE 2015: "Incorporating Herbal Supplements into Your Practice:
The Science and Regulations Behind Five Popular Botanicals"
with Tieraona Low Dog, M.D.
DECEMBER 2014: "Practical Practice Tips for Widely-Used Dietary Supplements"