Sally Hogshead
Best-Selling Author and Creator of the Fascination Advantage
---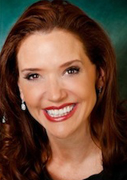 Sally Hogshead believes the greatest value you can add is to become more of yourself. Sally created the Fascination Advantage®, the first personality assessment that measures how others perceive you.

After researching over 700,000 people, her algorithm can pinpoint your most valuable differentiating traits. Unlike Myers-Briggs or StrengthsFinder, this test doesn't measure how you see the world—but how the world sees you. Her new book, FASCINATE: How to Make Your Brand Impossible to Resist is a New York Times bestseller. Her recent book, HOW THE WORLD SEES YOU, was a New York Times and Wall Street Journal bestseller.

The science of fascination is based on Sally's decade of research with dozens of Fortune 500 teams, hundreds of small businesses, and over a thousand C-level executives.

At the start of her career, Sally skyrocketed to the top of the advertising elite, writing commercials that fascinated millions of consumers. At the age of 24, she was the most award-winning copywriter in the U.S., and opened her first ad agency at age 27. Her work still hangs in the Smithsonian Museum of American History. She frequently appears in national media, including NBC's "Today" show and the New York Times.