Mitch Joel
President, Mirum, and Best-Selling Author and Digital Marketing Expert
---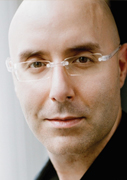 When Google wanted to explain digital marketing to the top brands in the world, they sought out Mitch Joel, one of the world's leading experts on new media and emerging technologies. Mitch brings digital marketing and media insights from his always-on and always-connected world. Marketing magazine dubbed him the "Rock Star of Digital Marketing" and called him, "one of North America's leading digital visionaries." He shares insights on the future of technology and business, including how to use big data to create brand loyalists, how to drive growth in a mobile world, the five technology trends changing the face of business, and how organizations can connect to an always-connected consumer. His presentations are full of fascinating examples and eye-opening stories. A charismatic and funny storyteller with great energy on stage, he has delighted audiences all over the world by delivering real content in an entertaining and customized way as he shares how to not only adapt to but succeed in the new digital, hyper-connected business world.

Joel is president of Mirum, global digital marketing agency operating in close to 20 countries (although he prefers the title, "media hacker"). He has been called a marketing and communications visionary, interactive expert, and community leader, and he was named one of the most influential authorities on blog marketing in the world. He is also a blogger, podcaster, passionate entrepreneur, and speaker who connects with people worldwide by sharing his marketing and innovation insights on the state of business.

Joel is frequently called upon to be a subject matter expert for Forbes, BusinessWeek, Fast Company, Marketing, Profit, Strategy, and many other media outlets. He is a regular columnist for the Harvard Business Review, Inc. magazine, the Huffington Post, and other magazines and newspapers. His first book, Six Pixels of Separation: Everyone Is Connected. Connect Your Business to Everyone – named after his successful blog and podcast, is a business and marketing best-seller. It offers a complete set of the latest tactics, insights, and tools to empower organizations to reach a global audience and consumer base. His latest book, CTRL ALT Delete: Reboot Your Business. Reboot Your Life. Your Future Depends on It, looks at the five technology and marketing trends that business leaders must embrace and was named one of the "Best Business Books of 2013" by Amazon. His next book, Algorhythm, will look at how the future of business will blend data and creativity.

Joel was named Canada's "Most Influential Male in Social Media" and one of the "Top 100 online marketers in the world" and was awarded the prestigious Canada's "Top 40 Under 40." He was also named one of iMedia's top "25 Internet Marketing Leaders and Innovators in the World."

Joel is a past chairman of the board and current chair of the digital marketing council for the Canadian Marketing Association and a former board member of the Interactive Advertising Bureau of Canada. He was involved in committees for Shop.org and the Web Analytics Association.