Matthew Luhn
One of the Original Story Creators at Pixar
---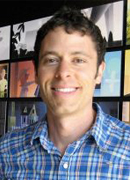 Matthew Luhn is a writer, story consultant and keynote speaker with over 20 years' experience creating stories and characters at Pixar Animation Studios.

Alongside his story work at Pixar, Matthew also trains CEO's, marketing teams, directors and other professionals how to craft and tell stories for Fortune 500 companies, Academy Award winning movies and corporate brands grossing billions of dollars worldwide.

Matthew speaks to diverse audiences around the world within a variety of industries. His clients include Adidas, Facebook, BBC, Microsoft, Charles Schwab, Sony, Procter & Gamble, Warner Brothers, Apple, Disney, Google, and many more.

Matthew's story credits include Toy Story, Toy Story 2, Toy Story 3, Monsters Inc., Monsters University, Finding Nemo, UP, Cars, Ratatouille and other films and TV shows currently in development.