Robert Bonakdar, MD, FAAFP, FACN
Director of Pain Management, Scripps Center for Integrative Medicine
---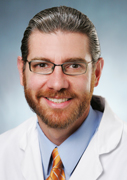 Dr. Bonakdar is founder & co-director of the Scripps Natural Supplements: An Evidence Based Update, a CME program now in it's 14th year devoted to supporting clinician education and resources in the area of dietary supplementation.He is the author of the H.E.R.B.A.L. Guide: Dietary Supplement Resources for the Clinician and editor of the textbookIntegrative Pain Management as part of the Weil Integrative Medicine library.  He has received the 2013 American College of Nutrition Seelig Magnesium Award and the 2010 Clinician's Award from the Natural Products Association.

A member of the Division of Integrative Medicine, Dr. Bonakdar received his medical degree from the University of Nevada School of Medicine and his undergraduate degree in psychobiology from Occidental College in Los Angeles. He received the Richter Fellowship for Independent International Research in the field of Southeast Asian heath practices and studied in Singapore, Malaysia, Hong Kong, China, and Indonesia. He completed a residency in family medicine at the Sharp Grossmont/ UCSD Program in San Diego and subsequently a clinical and research fellowship in integrative medicine at Scripps Clinic in La Jolla.  He is a fellow of the the American Academy of Family Physicians, American College of Nutrition and a diplomate and immediate past president of the American Academy of Pain Management, the largest multidisciplinary pain management organization in the US. 

Dr. Bonakdar's current clinical and research interests include integrative approaches to chronic disease management with a focus on pain, stress and metabolic disease.  In the area of dietary supplementation his work focuses on nutrient depletion and factors which facilitate identification and patient-provider communication regarding clinically tested dietary supplements.