Joanne L. Slavin, Ph.D., R.D.
Professor, Department of Food Science and Nutrition, University of Minnesota
---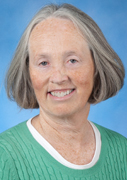 Dr. Joanne Slavin is a professor in the Department of Food Science and Nutrition at the University of Minnesota. She teaches FScN 4612 Advanced Human Nutrition. She has presented more than 350 invited scientific lectures around the world on topics including dietary fiber, carbohydrates, whole grains, protein, and the role of diet in disease prevention.

She has an active research group currently working in gut health, satiety, and related health outcomes. She is the author of more than 250 scientific publications and numerous book chapters and review articles and has advised 65 graduate students who work in universities, food companies, and health care facilities.

She is a Science Communicator for the Institute of Food Technologists and a member of numerous scientific societies, including the Academy of Nutrition and Dietetics and the American Society for Nutrition (ASN). She received the 2013 ASN General Mills Institute of Health and Nutrition Innovation Award, an award given to an investigator whose scientific contributions advance the understanding of the health benefits of whole grains. She gave the 2015 W.O. Atwater Memorial Lecture at the American Society of Nutrition (ASN) meeting.  She was a member of the 2010 Dietary Guidelines Advisory Committee (DGAC) for the US Department of Agriculture. She is a frequent source for the media on topics ranging from kid's eating to sports nutrition.

Dr. Slavin received B.S., M.S., and Ph.D. degrees in Nutritional Sciences from the University of Wisconsin-Madison and is a registered dietitian. She grew up on a dairy farm in southern Wisconsin that she still owns with her 2 sisters.