Health Care Practitioner Forum
Health Care Practitioner Forum

The Health Care Practitioner Forum (HCPF) is focused on meeting the needs of CRN members that serve the practitioner dietary supplement channel—one of the fastest growing channels in the supplement space. The HCPF centers on the scientific, regulatory, legal, and advocacy topics of interest to the practitioner market.
Staff Liaisons: Luke Huber, N.D., M.B.A., Vice President, Scientific & Regulatory Affairs, 202-204-7660, lhuber@crnusa.org
Carl Hyland, Vice President, Membership Development, 202-204-7674, chyland@crnusa.org
Chair: Aaron Bartz, President, Ortho Molecular Products, Inc.
Vice-Chair: Andrew Halpner, Ph.D., Vice President of Science and Technical Services, Nestlé Health Science
---
---
Inaugural Meeting:
CRN's HCPF convened its first meeting on Wednesday, Oct. 6, for CRN members that serve the practitioner dietary supplement channel or want to learn more about this growing category. 
The first meeting of the HCPF included discussion of:
How the CRN Foundation Vitamin D & Me! consumer education initiative can be used by practitioners and their patients.
The current legal status of N-acetyl-L-cysteine (NAC) in relationship to the practitioner market.
---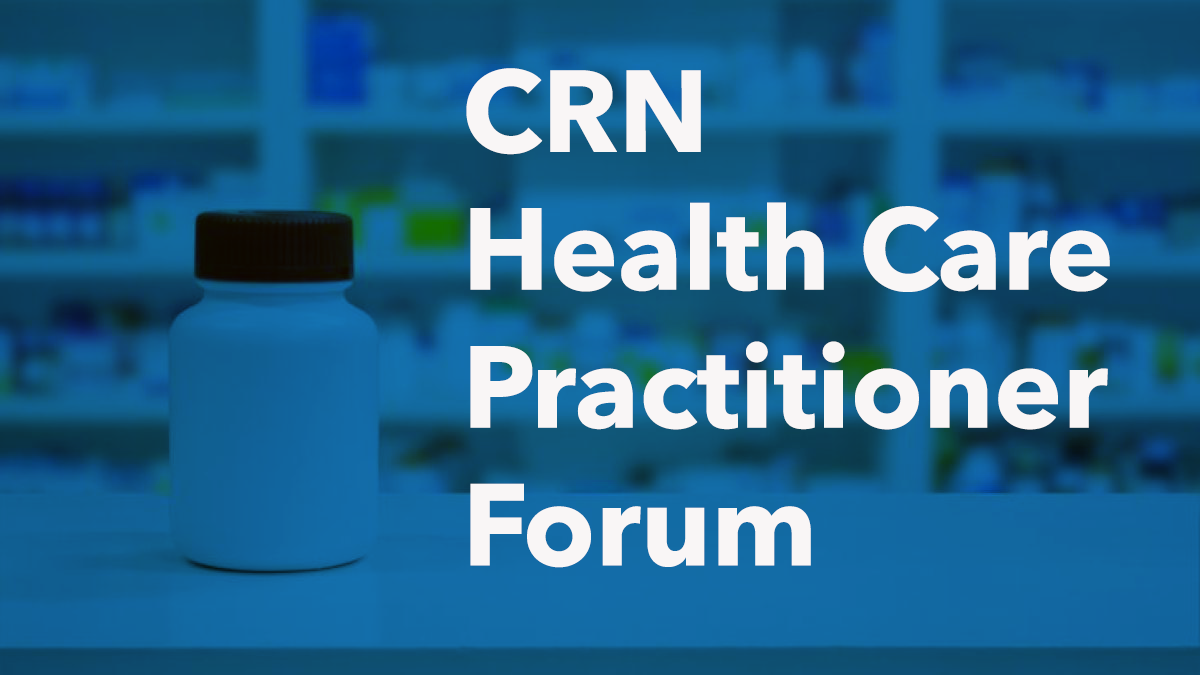 Practitioner Channel Supplement Sales Summer 2021 Overview:
The Dietary Supplement Industry is projected to exceed $50 billion in sales by the end of 2021
As of 2019, 9.5% of all sales in the industry were practitioner-channel sales
Practitioner channel sales are some of the fastest-growing in the industry1
Over the past 10 years, these sales have averaged an 8% annual growth rate
Sales in this channel are just under $5 billion annually and is projected to exceed $5 billion by the end of 2021 with an estimated overall growth of 6.6%
Practitioner channel sales immediately spiked during the beginning months of the pandemic
Daniel Samson, Chief Revenue Officer for Designs for Health, notes that sales for its practitioner brand were up in the "high double digits" in those beginning months of the pandemic
Kyle Bliffert, CEO of Atrium Innovations, noted they sold "four months of zinc in one week" from its professional brand in those same months
Practitioners have moved from wholly in person to majority virtual (5% to 60%) since the pandemic's start
More than 60% of chiropractors make nutritional recommendations on a daily basis
The pivot to telemedicine has impacted the way practitioners recommend dietary supplements
Practitioners have played a critical role in recommending COVID-19 health prevention strategies to consumers and patients
Evidence has shown that Vitamin D may play a role in preventing COVID-19 deaths—people with lower Vitamin D levels may be more likely to die from COVID than those with higher levels but these are preliminary reports2
Integrative Physicians are becoming increasingly common in America3
Between 16,500 and 23,600 of integrative physicians in America which have influenced 13-18 million patients in 2017
65% of integrative physicians recommend dietary supplements to their patients which totals roughly 9.8 million patients
Focused on holistic health meaning medical issues, nutritional health, even spiritual health

 
1Polito, Rick. "The Doctor Is Not In." Nutritional Business Journal, June 2020, pp. 14–16.
2The Possible Role of Vitamin D in Suppressing Cytokine Storm and Associated Mortality in COVID-19 Patients, Ali Daneshkhah, Vasundhara Agrawal, Adam Eshein, Hariharan Subramanian, Hemant K. Roy, Vadim Backman, medRxiv 2020.04.08.20058578; doi: https://doi.org/10.1101/2020.04.08.20058578
3Yadim Medore's presentation in the 2020 Webinar on Practitioner Channel Sales