Event Start Date
Apr 23, 2019
Event End Date
Apr 23, 2019
Event Start Time
2 pm Eastern
Event End Time
3 pm Eastern
Webinar
Over the next couple of years, new government mandates for food and dietary supplement labels will be implemented. Companies should be well-versed on the impending label changes to ensure both compliance and clear communication to consumers. If you cannot easily explain the label changes, then you might not understand them yourself.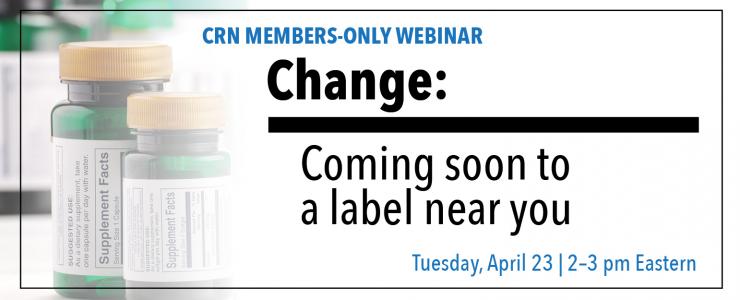 Join us to:
Dig into the various components of the new USDA mandatory standard for disclosing bioengineered (BE) foods
Explore technical aspects of the Nutrition and Supplement Facts label changes as well as areas of importance for companies implementing label changes <1 year from the compliance date
Learn about the Label Wise supplement facts label consumer education campaign and the tools available for companies to clearly communicate supplement facts label changes to consumers

Moderated by: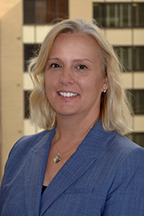 Gisele Atkinson
Vice President, Quality & Technical Affairs, CRN
Ms. Atkinson serves as a resource for CRN's member companies seeking advice on their quality control programs. As part of the Scientific & Regulatory Affairs department at CRN, she assists CRN members with understanding and complying with federal cGMP regulations and other regulatory requirements. She has more than 15 years of experience in quality control and management, having served in management positions for a number of dietary supplement companies, including Renew Life Formulas, New Chapter, and SwissCaps. Ms. Atkinson has a B.S. in Microbiology with a minor in Biotechnology from the University of Guelph in Ontario, Canada.
---
Featuring: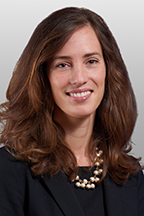 Bianca Nunes
Associate, Covington & Burling, LLP
Bianca Nunes is an associate in Covington & Burling's Washington, DC office, where she is a member of the Food, Drug, and Device practice group.  She assists clients in complying with U.S. regulatory requirements for the manufacture and sale of food, dietary supplements, cosmetics, and consumer products.  Ms. Nunes works with food and dietary supplement companies to develop claims that minimize regulatory and litigation risks while achieving marketing goals.  She has significant experience advising clients on GMO labeling and claims, including with respect to the new federal bioengineered food disclosure standard.
---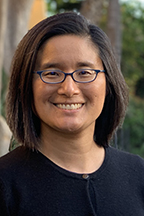 Lisa Jen
Director Global Regulatory Affairs & Product Compliance, Herbalife
Lisa Jen is a Director of Global Regulatory Affairs and Product Compliance at Herbalife Nutrition. In her current role, she oversees the North America region by ensuring product claims, ingredients, formula specifications meet the regulatory requirements for US, Canada, Jamaica, Puerto Rico and Trinidad & Tobago. Prior to joining Herbalife Nutrition in 2005, Lisa worked in the dietary supplement industry in Quality Control, Production Planning and Purchasing roles. Lisa received her B.S. in Biological Sciences and B.A. in Music from University of California, Irvine, and M.S. in Human Nutrition from University of New Haven.
---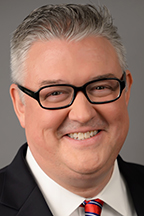 Brian Wommack
SVP, Communications, CRN
Brian Wommack is responsible for overseeing the development and execution of the association's overall strategic communications efforts.
Mr. Wommack has 20+ years of experience helping organizations and brands see around corners and solve problems—or seize opportunities—at the intersection of communications, public policy and law. Providing services as a lawyer, lobbyist or communications strategist—and in hybrid roles drawing from each of these disciplines—Mr. Wommack is a versatile and full-service counselor.
He has helped clients across a variety of industries weather the dot-com collapse, the 9/11 terrorist attacks, the Enron meltdown, the great recession and numerous corporate, governmental and political scandals. He has also coached clients to position themselves more effectively, to communicate more clearly, and to find and activate like-minded allies to support shared goals.
Brian has clerked for a federal court judge, worked for leaders in both chambers of the U.S. Congress, and practiced at two prominent international law firms, a nationally recognized lobbying group and one of the world's leading global communications consultancies. He most recently led the strategic communications practice of integrated law firm Cameron LLP.
---