James c griffiths phd
James C. Griffiths, Ph.D.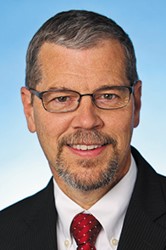 Vice President, Scientific & International Affairs
Dr. Griffiths is responsible for CRN's science-based international policy and regulatory work, and is the CRN staff liaison for CRN-International (CRN-I). He has more than 25 years of experience in the area of food safety and regulatory affairs. Prior to joining CRN, he spent five years with the United States Pharmacopoeia (USP) where he managed food and dietary supplement strategic initiatives, including those related to global food and dietary supplement alliances. He began his career as a regulatory review toxicologist at the U.S. Food and Drug Administration's Center for Food Safety and Applied Nutrition. His background also includes various scientific and regulatory positions at Burdock and Associates, the Flavor & Extract Manufacturers' Association, International Specialty Products, Avon Products, and others. He has published extensively in peer-reviewed publications, and serves on the editorial board of the Journal of Excipients and Food Chemicals. He is currently serving a two-year term as president for both the Toxicology and Safety Division, Institute of Food Technologists, and the Society of Toxicology's Food Safety Specialty Section. Dr. Griffiths holds a B.A. in biology from Columbia Union College in Maryland and earned his Ph.D. in Toxicology from Rutgers University & Robert Wood Johnson Medical School in New Jersey.