---
New Data Reaffirm Trust and Confidence in Industry, Reveal Modern Trends and Habits of American Consumers
As consumer needs evolve, dietary supplement use remains strong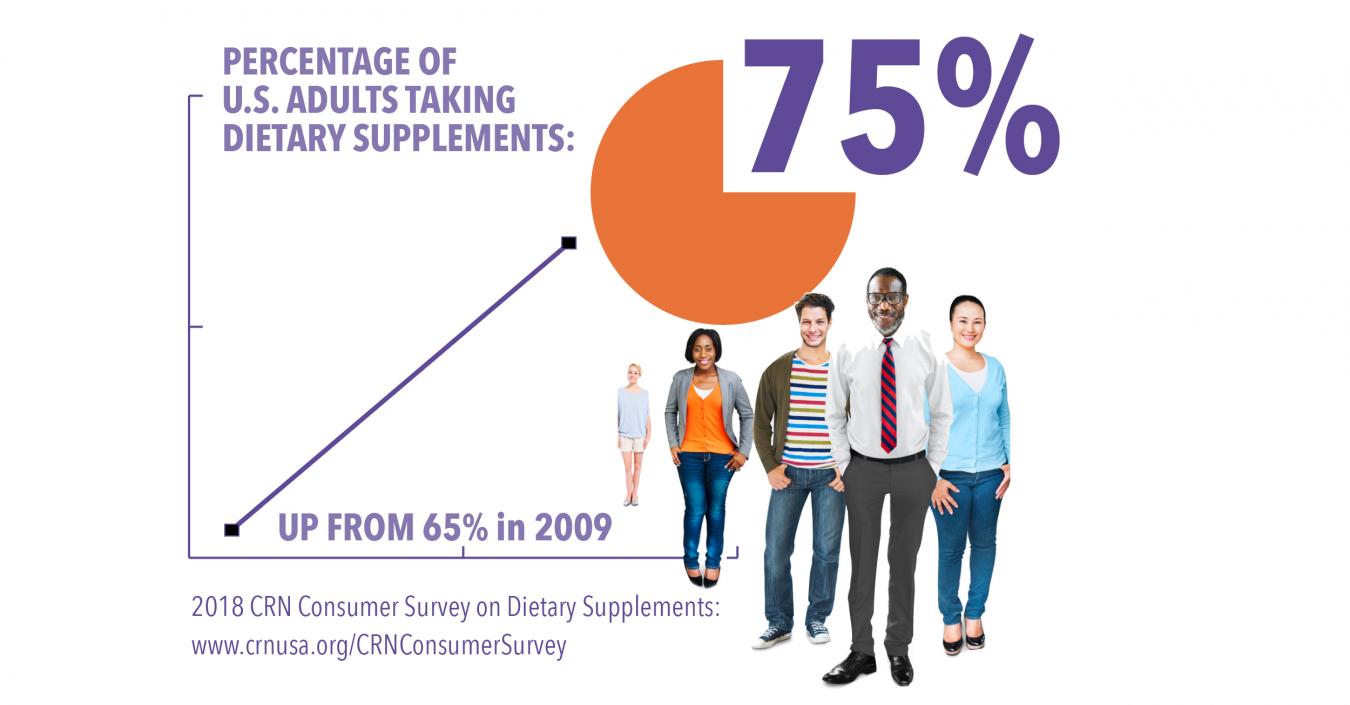 WASHINGTON, D.C., October 18, 2018 – The use of dietary supplements among U.S. adults increased ten percent over the past decade, confirms new data from the 2018 CRN Consumer Survey on Dietary Supplements. Commissioned by the Council for Responsible Nutrition (CRN) and conducted by Ipsos Public Affairs, the survey found that 75 percent of U.S. adults take dietary supplements, as opposed to just 65 percent in 2009. Results of the 2018 survey also revealed emerging trends in both consumer behavior and product demand. 
---
---
"This year's data provide further evidence that dietary supplements are mainstays in modern day health and wellness regimens," said Brian Wommack, senior vice president, communications, CRN. "Three-quarters of Americans take dietary supplements, and the steady increase in use observed over recent years speaks to society's shift toward a more holistic, personalized approach to healthcare. Not only does the 2018 survey reaffirm positive data we've seen before, but the results also paint a clearer picture of a changing industry guided by the needs and wants of American consumers today."

Consumer confidence in products and trust in industry remain strong. The majority of U.S. adults—87 percent—have overall confidence in the safety, quality, and effectiveness of dietary supplements, consistent with last year's data and up from 84 percent in 2009. Additionally, the 2018 survey found that 78 percent of Americans perceive the dietary supplement industry as being trustworthy. When it first appeared on CRN's Consumer Survey in 2016, the question "To what extent do you perceive the dietary supplement industry as being trustworthy" yielded a response of 73 percent.

"We're pleased to see a 5 percentage point increase in consumer trust in just two years." said Mr. Wommack. "As the industry continues to grow and innovate, we will keep working hard to be worthy of consumers' trust while helping them live healthier and more fulfilling lives."

As seen throughout the survey's history, the 2018 results also show that dietary supplement users are more likely to engage in other healthy habits than non-users.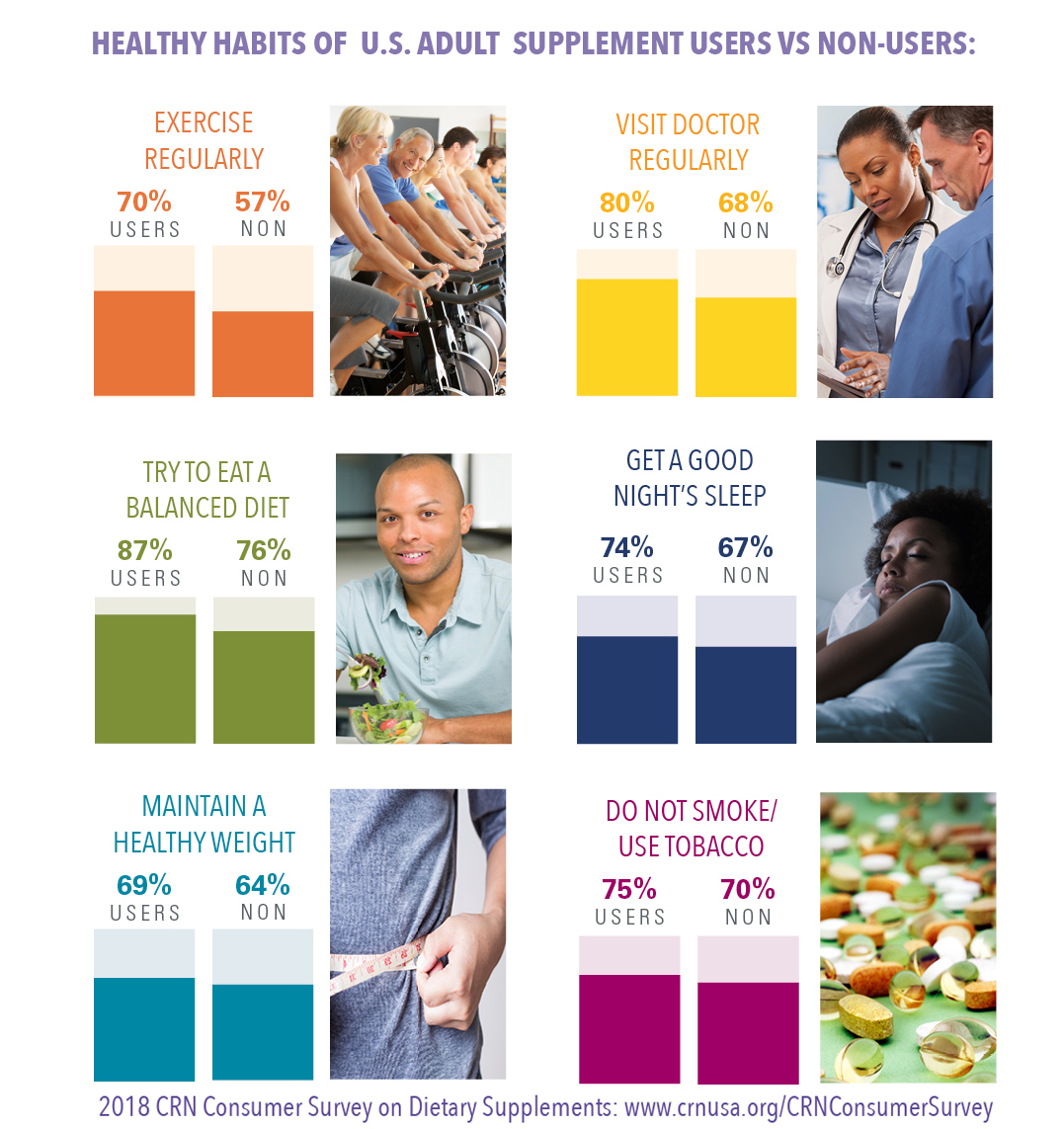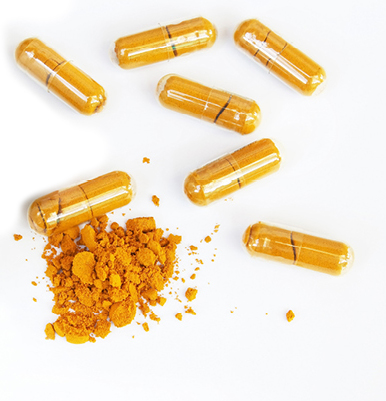 The 2018 survey found that supplement use is diversifying across categories. While vitamin/mineral supplements remain the most popular category among supplement users (98 percent), the overall use of herbals/botanicals has significantly increased in the past five years. In 2018, 41 percent of supplement users reported they had taken herbals/botanicals in the past twelve months—up 13 percentage points from 2013. Within that category, the 2018 data reflect the emergence of one of industry's rising stars: turmeric. 

"Turmeric wasn't on the survey five years ago," noted Mr. Wommack. "Now, it's the second most popular supplement in the herbal/botanical category. This year's survey results show similar upticks with other categories and products—not only in the greater population, but especially among different generations."
According to the 2018 survey, 78 percent of U.S. adults aged 55+ take dietary supplements, followed by those aged 35–54 (77 percent) and 18–34 (69 percent).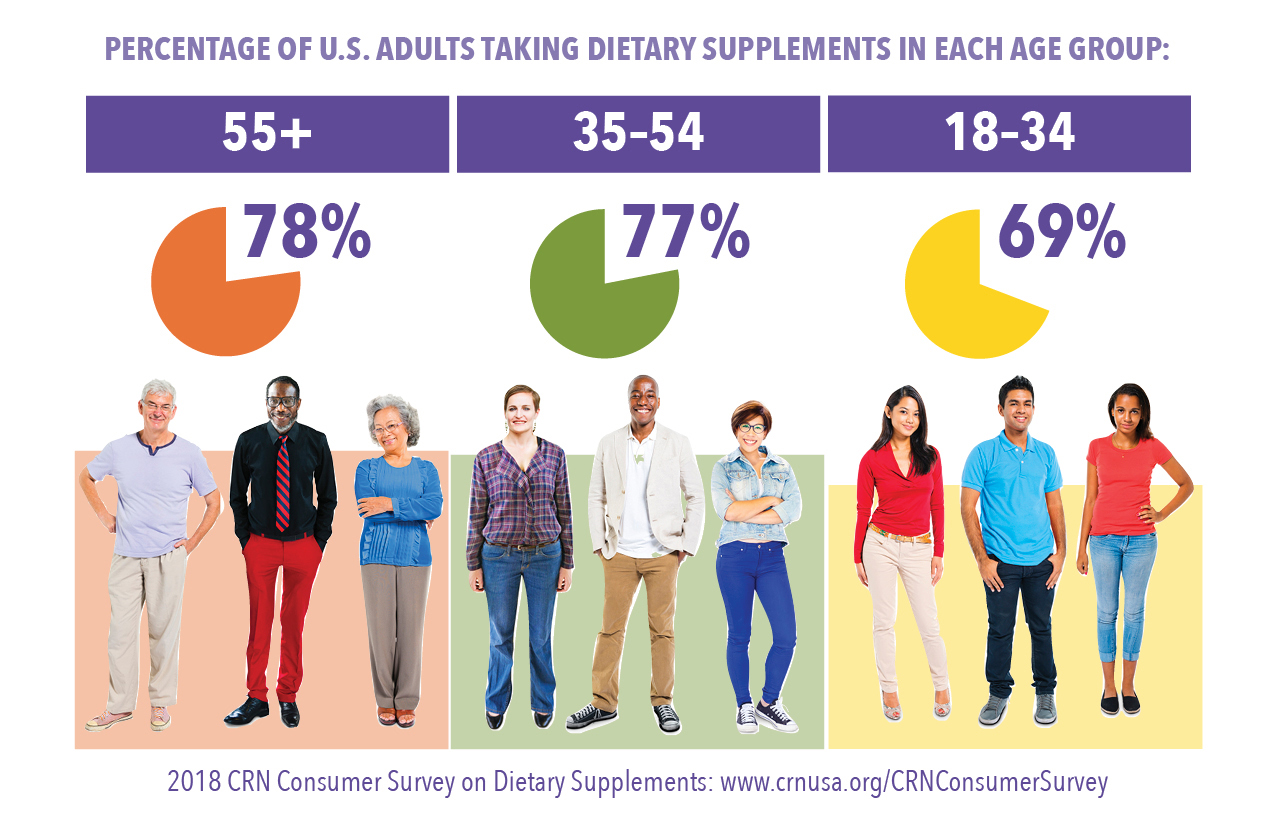 Among those age groups, data revealed the following trends:
U.S. adult supplement users aged 18–34

Data show that 83 percent of supplement users aged 18–34 take a multivitamin, up 8 percentage points from last year. Additionally, 20 percent take fiber supplements—up 2 percentage points from 2017 and 11 points from 2013. When it comes to reasons for taking dietary supplements, 37 percent of 18–34 year olds cite energy, versus 33 percent of adults aged 35–54 and just 16 percent of adults aged 55+.
 
U.S. adult supplement users aged 35–54

Seventy-seven percent of U.S. adults aged 35–54 take dietary supplements, up 11 percentage points from five years ago. Forty-two percent take herbals/botanical supplements, up from 37 percent in 2017. Additionally, 31 percent of supplement users in this age group cite immune health as the top reason for taking dietary supplements, compared to 25 percent of U.S. adults aged 18–34 and 21 percent of U.S. adults aged 55+.
 
U.S. adult supplement users aged 55+

Forty-six percent of supplement users aged 55+ take vitamin D, versus 34 percent of supplement users aged 35–54 and 31 percent of supplement users aged 18–34. Survey data show that 24 percent of these supplement users take magnesium, compared to 17 percent last year. Additionally, healthy aging (28 percent), heart health (29 percent), and bone health (31 percent) are among the top reasons Americans in this age group take dietary supplements. 
Why do they take supplements?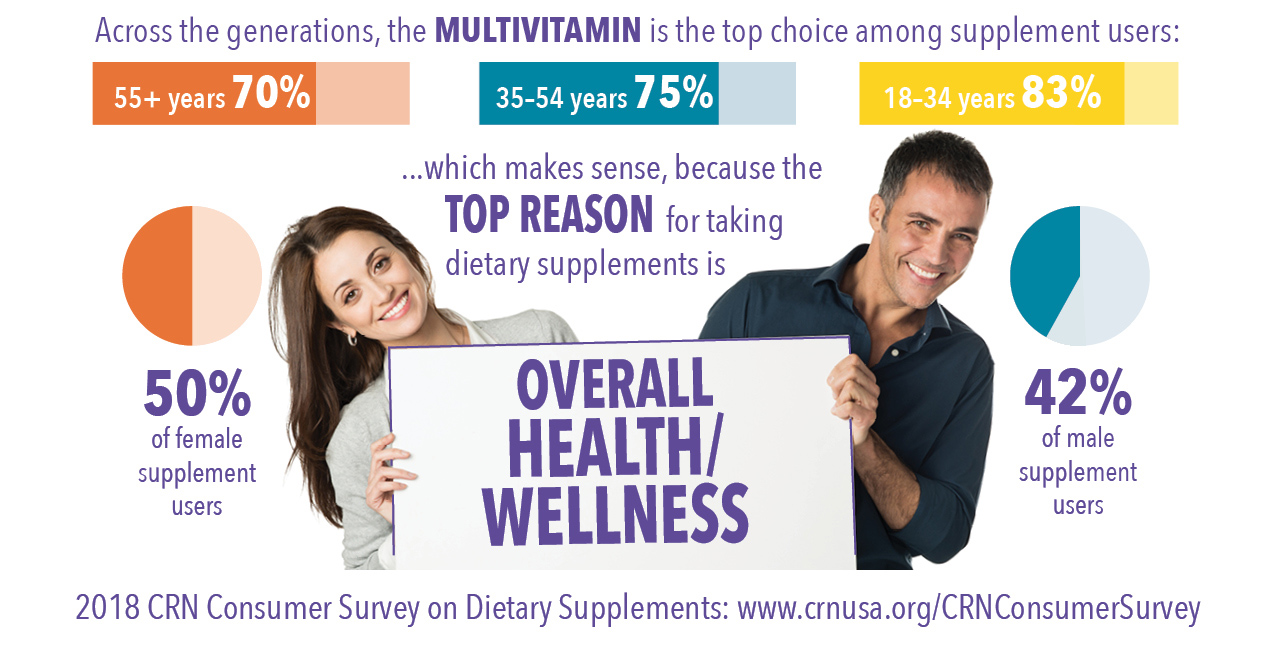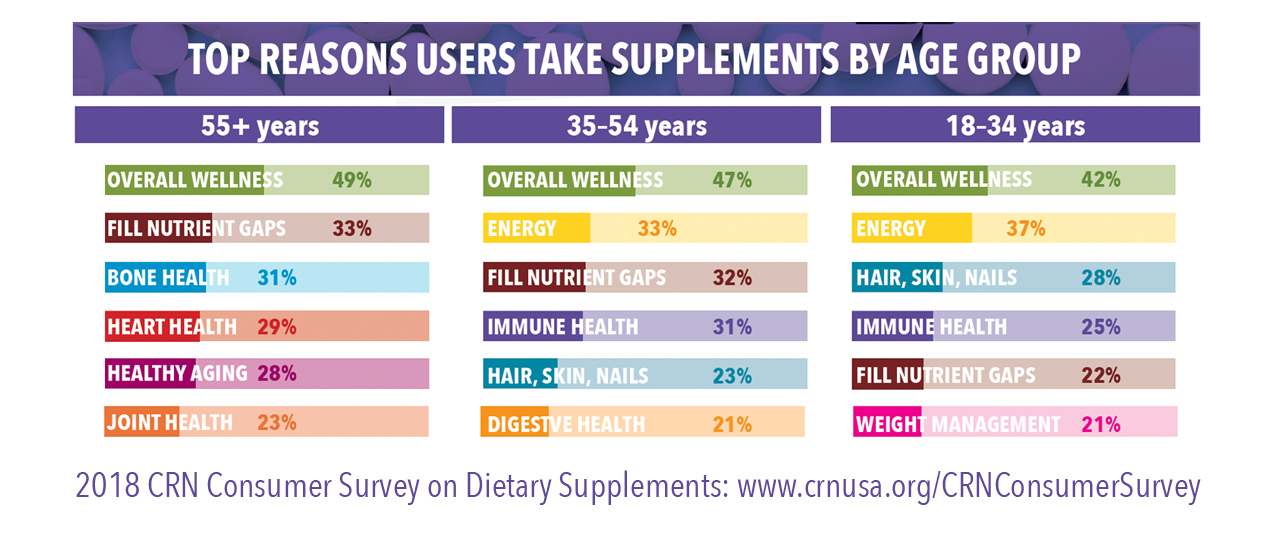 The CRN Consumer Survey on Dietary Supplements serves as the leading resource for statistics on usage of and confidence in dietary supplements. Funded by CRN, the survey has been conducted annually since 2000. Ipsos Public Affairs conducted the survey online, in English, Aug. 24–28. The 2018 survey included a national sample of 2,004 adults aged 18 and older living in the United States. Of those surveyed, 1,504 were considered supplement users. The precision of Ipsos online polls is measured using a credibility interval. In this case, the poll has a credibility interval of plus or minus 2.5 percentage points for all respondents, and plus or minus 2.9 percentage points for supplement users (see Ipsos' online polling methodology for more info). For the next 12 months, CRN will continue to release additional data and insights from the 2018 survey. Media are welcome to reach out to CRN in the meantime to request specific statistics.
---
Note to Editor: The Council for Responsible Nutrition (CRN), founded in 1973, is a Washington, D.C.-based trade association representing 150+ dietary supplement and functional food manufacturers, ingredient suppliers, and companies providing services to those manufacturers and suppliers. In addition to complying with a host of federal and state regulations governing dietary supplements and food in the areas of manufacturing, marketing, quality control and safety, our manufacturer and supplier members also agree to adhere to additional voluntary guidelines as well as to CRN's Code of Ethics. Visit www.crnusa.org. Follow us on Twitter @CRN_Supplements, Facebook, and LinkedIn.