Join CRN
Join CRN

CRN, the leading trade association of the dietary supplement and functional food industry, offers unparalleled value for your membership dues. If you share CRN's commitment to a culture of credibility and an expectation of high ethics, learn more about the benefits of membership in CRN below and apply now. 
---
---
---
Learn more about how CRN and members aspire to and embody the highest ethics via an open series in the CRN Daily Supplement member newsletter. 
---
What should you expect from your trade association? 
Hear from CRN President & CEO Steve Mister in this excerpt from his address at our 2020 "NOW, NEW, NEXT" event.
CRN members enjoy special access and registration rates for our educational and engagement opportunities and the convenience of a new mobile app to keep them updated and organized.
---

INFORMATION | ACCESS | A VOICE
CRN delivers insightful information and perspective, provided promptly, on critical issues impacting the industry. In addition to a regular CRN member update and as-needed communications from active committees, CRN delivers information via educational offerings such as webinars and engagement events and educational opportunities (now virtual in response to COVID-19), offered at a discount for CRN members. 
Your CRN membership gives you access to our expert, dedicated staff of professionals—think of us as an extension of your own staff in science, government relations, regulatory and international affairs, legal and communications. Association membership is not a luxury, but an extension of your company. 
CRN members have a voice in shaping the dietary supplement industry through our committees and working groups, as we share ideas and develop solutions. CRN helps companies keep their best employees by providing them greater influence in the industry they love.
A message from CRN President & CEO, Steve Mister for prospective members:

In all of the issues CRN is working on, as well as in the way CRN conducts business, responsibility is front and center—after all, "responsible" is our middle name and we pride ourselves on being good stewards of our members' dues.
We invite you to join the more than 180 companies that are committed with CRN to its mission of: responsibly developing, manufacturing and marketing dietary supplements, functional food and their ingredients.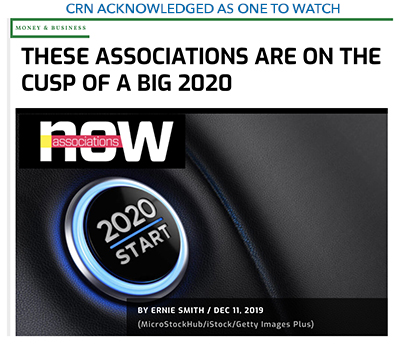 Submitting your application: 
Calculate your dues and obtain approval and consensus within your company and prepare your application.Determine your company's membership category and calculate annual dues by checking out CRN's membership applications here. There are three categories: Voting, Associate, and International.
Submit your application and answer vetting questions from CRN. We want to make sure your business shares our mission and meets our standards—including adhering to CRN's Code of Ethics and its Voluntary Guidelines/Best Practices as well as participation in the Supplement OWL. 
CRN Board of Directors review:
CRN's Board of Directors will vote on new member applications quarterly. Once approved, your membership begins and you can get connected right away by joining committees, connecting with CRN staff and accessing members-only content.
Questions?
Please contact Carl Hyland, vice president, Membership Development: chyland@crnusa.org | (202) 204-7674
---
CRN Membership Categories and Applications
VOTING
Any company or person who manufactures a dietary ingredient or a dietary supplement—as defined in the Dietary Supplement Health and Education Act of 1994 (DSHEA)—or who distributes a dietary supplement under its own brand shall be eligible for membership in CRN as a voting member. Under DSHEA, a dietary supplement is defined as "any product that contains one or more dietary ingredients such as vitamins, minerals, herbs, or other botanicals, amino acids or other ingredients used to supplement the diet."
Dues for voting members shall be calculated on the company's previous fiscal year's sales. "Sales" is defined as net sales in the U.S. during the past year resulting from the manufacture and/or distribution of dietary supplements or ingredients in dietary supplement products, including all dietary supplement product sales of the member company and its domestic affiliates, excluding intracompany sales. "Ingredients" includes not only "dietary ingredients" as defined in DSHEA, but also excipients, colors, flavorings, and other ingredients used in the manufacture of supplements. There are four categories of voting members—branded finished product manufacturers, contract manufacturers, ingredient manufacturers, and ingredient representatives/distributors. Calculation instructions for voting member dues are on the membership application.
ASSOCIATE
Any company or person who supplies services or other support to a company or person eligible for voting membership. associate members may apply to upgrade their membership to voting status. CRN now offers a four-tiered dues structure in the associate member category, dependent on the size of the company making membership more affordable for single practitioners.
INTERNATIONAL
Any company or person that is eligible for voting or associate membership in CRN, but does business exclusively outside the U.S. International members may apply to upgrade their membership to voting status.