Build your knowledge convenient webinars
Build on your knowledge with convenient webinars
CRN is again teaming up with Natural Products INSIDER to present a series of webinars.
---
Registration now open
JUNE 13 | 2 – 4 pm Eastern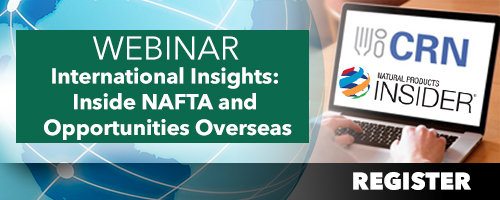 The North American Free Trade Agreement (NAFTA) is back in the news as a new administration in the U.S. flirts with renegotiation. This webinar will provide an overview of what dietary supplement and ingredient marketers need to know now about NAFTA, and will help them prepare for possible changes in the way they are required to do business with neighboring nations to the north and south. Participants will also hear perspectives from experts within the Canadian and Mexican dietary supplement and nutraceuticals markets. In addition, the webinar will include a whirlwind tour of top opportunities and top challenges in European markets, designed to give a quick overview and topline taste for those considering expanding even further.
Find out more and register via Natural Product INSIDER's website.
Contact Maya English with questions.
---
View past webinars on demand
MISS THE FREE INDUSTRY-WIDE WEBINAR APRIL 25?  
Getting Started with the Supplement OWL Dietary Supplement Product Registry
FIND OUT HOW TO VIEW ON DEMAND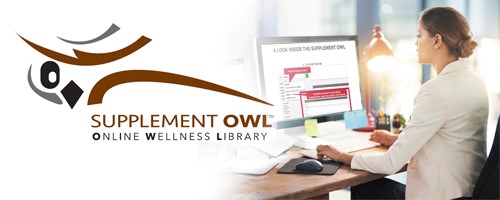 ---
MISS OUR PROBIOTICS WEBINAR?
REGISTER AND VIEW ON DEMAND

---
Save these dates for upcoming CRN/INFORMA webinars:
International Insights: Inside NAFTA and Opportunities Overseas—June 13
(REGISTRATION OPENING SOON)
Adverse Event Reporting—November 14
Additional webinar TBA
---
Coming up with Skipta
Specially developed for pharmacists & nurse practitioners 
Introducing: The Supplement OWL Dietary Supplement Product Registry
Wednesday, May 31
1–2 pm Eastern
presented by CRN in collaboration with Skipta
REGISTER HERE
---
Access past webinars from CRN/Skipta
CRN and Skipta, the leading social network of specialized online medical communities for verified healthcare professionals, regularly partner to bring informative webinars about dietary supplements to pharmacists and nurse practitioners.
SaveSave
SaveSave