Event Start Date
May 06, 2020

---
CRN Members: Learn how to communicate effectively in the COVID era, how to hold the best online meetings, and take good care of yourself and your team with 'Genius Breaks.' Get details...
Contact us if you need assistance logging in.
 
The annual in-person meeting of CRN's Communications and Media Outreach Committee (CMOC) provides members an exclusive opportunity to learn the latest trends and best practices in communications, marketing, and media relations. In light of the COVID-19 disruption and uncertainty, this annual in-person meeting is now shifting to the virtual "Wellness from Washington." Although we prefer to be with you in-person, we believe a virtual meeting is the next best option for "gathering" as a community, and most importantly, protecting the health and safety of attendees, speakers and CRN staff.
Agenda
Virtual Reception/Book Signing 4:30 – 5:30 pm ET / 1:30 – 2:30 pm PT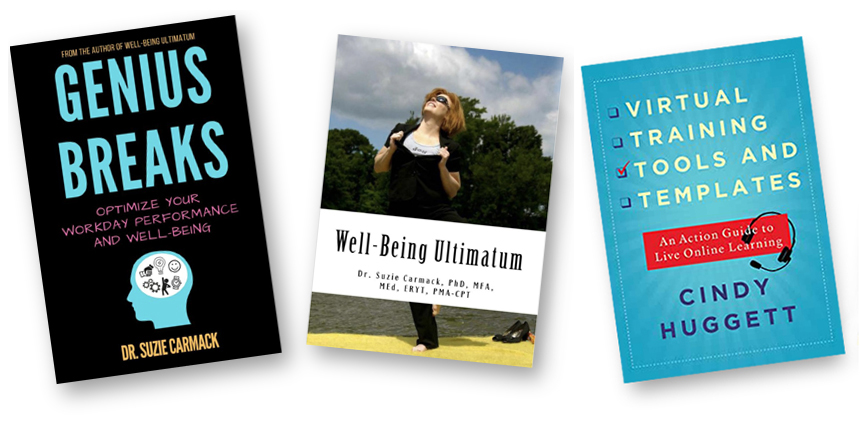 The first 100 registrants will receive books by Dr. Suzie Carmack and Cindy Huggett.
They will be available during our online reception after the sessions for a virtual book signing! Details will be provided via email after registering.
LEARN MORE ABOUT OUR SESSIONS AND SPEAKERS:
Best Practices for Online Events: 3 Keys to Success
Cindy Huggett, CPLP
In this interactive session with virtual learning expert, Cindy Huggett, you will learn best practices for leading and facilitating online events. Attendees will learn the three critical components to every successful online event, including how to set up for success. Ms. Huggett will address questions such as "How do you keep everyone engaged when you aren't in the same room?" You will leave this session with many practical ideas that you can immediately implement in your next online event. Whether you are brand new to live online delivery or have been facilitating virtual events for years, and regardless of which online collaboration platform you use, you will be sure to leave this session with new ideas, new tips, and new techniques for improving your virtual events.
ABOUT CINDY:
Ms. Huggett is a consultant, speaker, designer, facilitator, and author who specializes in technology, leadership, and learning. She's written four books on virtual training: Virtual Training Tools and Templates: An Action Guide for Live Online Learning (2017), The Virtual Training Guidebook: How to Design, Deliver, and Implement Live Online Learning (2014) and Virtual Training Basics (1st and 2nd editions). She helps organizations and training professionals move to the virtual classroom. Find out more about Cindy on her website: www.cindyhuggett.com
The Challenges of Communicating Effectively in the COVID Era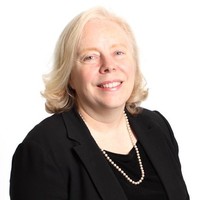 Sally Squires, SVP-Management Supervisor, & Director, Food, Nutrition and Wellness Communications, Weber Shandwick
Communicating during a health crisis is challenging; in a time of pandemic, it is downright onerous. As a community of companies that supplies ingredients and products to promote health and wellness, how do we navigate the new media landscape and clearly, effectively, and responsibly communicate? Ms. Squires will explore what communicators should focus on, what they should avoid, and how they should approach making critical decisions. The session will provide attendees with reliable tools and resources they need to create effective response strategies and offer guidance to anticipate and seize opportunities the post-crisis world will present.
ABOUT SALLY:
Sally leads the Food, Nutrition and Wellness communications practice. She draws upon her extensive experience as a nutrition expert, nationally syndicated columnist and author to advise clients on a range of strategic communications and media relations issues.
She has helped position clients as experts to policymakers and regulators. She assists clients in navigating difficult nutrition facts labeling issues and has enabled clients to integrate key, scientifically based messages into the U.S. Dietary Guidelines.  Her invitation-only Breakfast Club convenes leading stakeholders and influencers from leading government agencies and academia to the White House for briefings and networking.
Before joining Weber Shandwick twelve years ago, Sally spent more than two decades at the Washington Post as an award-winning journalist, nationally syndicated columnist and social media maven. She holds graduate degrees in nutrition and journalism from Columbia University.
Sally appears regularly as a nutrition expert on WTOP, the leading all-news radio station in Washington, DC and contributes to the Washington Post. She is an author and an adjunct professor at the Tufts Friedman School of Nutrition Science and Policy. Sally serves on the editorial boards of The Nation's Health, a publication of the American Public Health Association and Nutrition Today, a peer-reviewed publication of the American Society for Nutrition. She is a member of numerous scientific organizations including the Academy of Nutrition and Dietetics, the Institute of Food Technologists and the Society for Nutrition, Education and Behavior, among others.
Genius Breaks: A Behind the Scenes Look at Team and Leader Well-Being Promotion
Suzie Carmack, Ph.D., MFA, MED, ERYT 500, NBC-HWC
Are you looking for new ways to promote well-being to leaders and their teams—and even yourself? During this session, Dr. Suzie Carmack will share how she has transformed thousands of workplaces worldwide with her Genius Breaks intervention. Attendees will learn the science behind her Genius Breaks framework, and how it can change the way you engage with yourself and others throughout your workday, especially now as we continue to adapt to our new professional and personal habits. Dr. Carmack will also take you behind the scenes in her approach to promoting the campaign and explain how she was able to take a small idea from her kitchen to the largest public and private sector organizations and agencies in the world, including the Pan American/World Health Organization, the U.S. Treasury Executive Institute, and the Department of Defense.
ABOUT SUZIE:
Dr. Suzie Carmack is dedicated to moving individual leaders and their teams, organizations, and global agencies to well-being. In addition to being a two-time #1 best-selling author (Well-Being Ultimatum, 2015 and Genius Breaks, 2017), she is globally recognized for raising international awareness about the rising prevalence of sitting disease in the early 2000's, and for her pioneering work in bringing yoga, mindfulness and compassion practices into the workplace and schools ever since. As a personal well-being coach and trusted advisor to c-suite leaders and other high profile individuals in the public and private sector, she is world-renowned for her innate ability to translate the complex sciences of stress, compassion and work/life well-being in a user-friendly, humorous and provocative way. Dr. Carmack currently serves as an Assistant Professor of Global and Community Health at George Mason University, where she earned her PhD in Health Communication (2014) and was recognized as alumnae of the year (2018). 
She is also the Founder and CEO of YogaMedCo, LLC a virtual research and training center offering integrative health programming solutions and online training programs that aim to reduce burnout, compassion fatigue, and maladaptive perfectionism while equipping the public with new tools for somatic resilience, compassion, workplace creativity and compassion and work/life balance. Dr. Carmack grew YogaMedCo from an idea in her kitchen to a global online training organization, serving as a trusted thought partner and consultant to the Pan American/World Health Organization, the U.S. Treasury Executive Institute (supporting senior leaders in all 45 federal government agencies), the U.S. Parks Service, the Department of Defense, and a variety of small- and mid-sized organizations in the public and private sector. Prior to founding YogaMedCo, she held a successful career in stakeholder engagement and strategic communication, which included leadership of the stakeholder engagement efforts that brought the Cloud to CDC in 2016.  Learn more about Suzie and how she can move you and your team to well-being at www.DrSuzieCarmack.com