Age Restrictions
4 THINGS TO KNOW ABOUT:
Age Restrictions on Dietary Supplements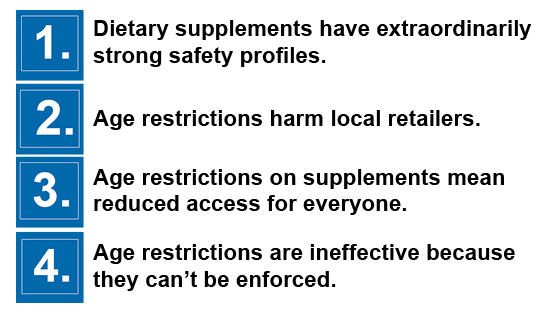 "Dietary supplements are regulated as a category of food by FDA because they contain many of the same ingredients that are found in nutritious foods—vitamins, minerals, botanicals, protein, amino acids and other substances that supplement the diet. Supplement marketers are required to report serious adverse events to FDA, and their manufacturing is subject to strict controls and inspection. Age restrictions on supplements make about as much sense as age restrictions on food," CRN President & CEO Steve Mister explains in the video.
---
"Every company in the supplement industry should be concerned. This misguided effort to put age restrictions on some people equals limited access for everyone. What starts as a defined category of restricted products quickly extends to other supplements. "
—President & CEO Steve Mister, Nutrition Industry Executive
---
Learn more about how CRN is opposing age restriction proposals in California and Massachusetts in this Daily Supplement newsletter item, unlocked for the public. Members, review our 2020 analysis of how proposed restrictions miss the mark on addressing root issues with dangerous products in the Daily Supplement.
---
Learn about responsible industry's efforts to address adulterated ingredients and products masquerading at dietary supplements:

Are you aware of Selective Androgen Receptor Modulators (SARMs), unapproved, illegal, and dangerous compounds found in performance-enhancing products? When used in dietary supplement products, sometimes with names like "ostarine" and "andarine," they can pose a serious threat to consumer safety, particularly in the bodybuilding and fitness communities. SARMs have no business being marketed to consumers as dietary supplements. Learn more.
---