consumer trust and CBD
How will you earn and keep consumer trust? Plus, catch up on CBD news
WellComms day 1 highlight: How will your brand earn—and keep—consumers' trust?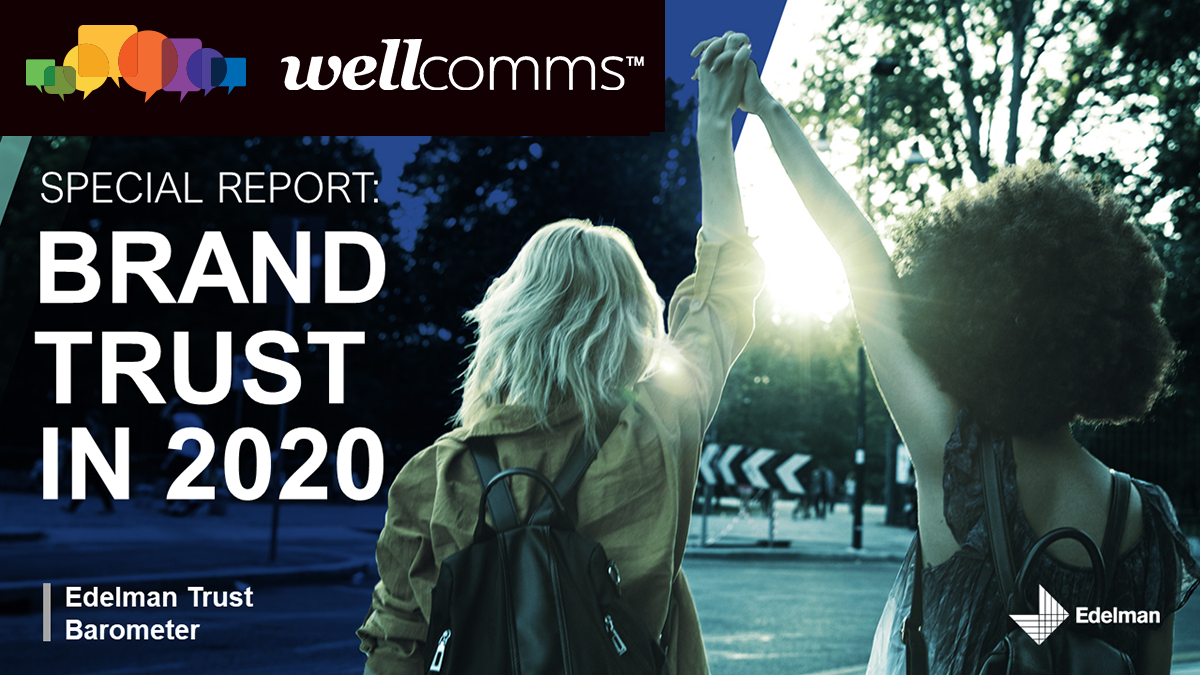 "Brand trust is earned, not bought," said Edelman's Jennifer Hauser, general manager, Health & Wellness, during CRN's premier WellComms conference that kicked off yesterday. Alison Borgmeyer, RD, general manager of the Edelman Food & Beverage Center of Excellence, joined Ms. Hauser for their session on communicating trust to consumers in a post-pandemic world.
The pair walked WellComms attendees through the 2021 Edelman Trust Barometer, its global survey of consumers, which revealed that consumers don't know where or who to turn to for reliable information. How brands earn and keep consumers' trust is critical to brand health. 
"Trust is what defines a brand," Hauser added. "Trust is second only to price for purchase and loyalty," she explained, sharing data from the Edelman's "Trust Barometer Special Report: Brand Trust 2020."
The pair conveyed how "buying on belief" has become the new normal, with 64% of people saying they would choose, switch, avoid, or boycott a brand based on its stand on societal issues, according to the Edelman report. The Trust Barometer revealed brands that take action to address racial and social injustice help their trust level more than hurt it—80% of people trust brands that take a stand on social issues.
The special report also found 44% of consumers said how brands produce and deliver products has a large impact on the environment, and 36% said brands will have a huge impact on how quickly and safely the economy recovers.
It's not too late to attend day two of WellComms, which kicks off today at 12:45 pm ET. Registration will provide live access to today's three sessions and deliver recordings of all sessions, including Edelman's presentation on brand trust, a deep-dive by McKinsey & Co. into the future of the $1.5 trillion wellness industry, and the session every leader of teams must experience, "Get Your Team to Work Smarter, Not Harder." Register now.
---
CBD supplement market ready for 'next level', needs single federal regulatory framework, Mister says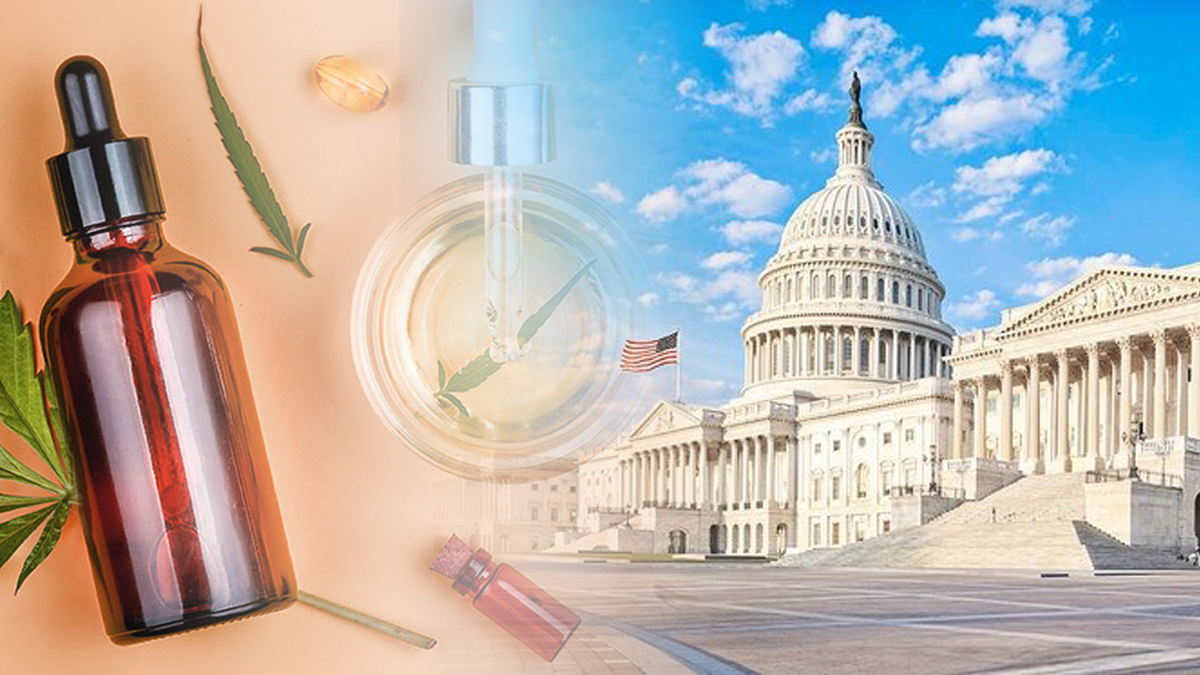 A "near-united industry" supports legislation in play that would establish national CBD regulation. In recent NutraIngredients-USA.com coverage of how COVID-19 and "legal chaos" have impacted the CBD market, CRN President & CEO Steve Mister said "...we are fully behind these bills to forge a single federal legislative framework for CBD in dietary supplements." (S 1698 covers food and supplements, while HR 841 pertains only to supplements.)
"The legal uncertainty has damaged the category already. What's disturbing is the fact it is not safety concerns that are preventing CBD from being legal right now—it is just the fact that it was regulated as a drug first," Mister added.
Mister emphasized that legislative proposals should not establish approved levels of CBD. "We absolutely believe FDA should not be setting a safe level up front," he stated. "If a level is mandated we won't be able to go back and change it as safety data evolves."
CRN associate member Validcare recently announced the second cohort of its CBD safety study. Validcare has already shared the results of its first cohort with FDA. CRN member Charlotte's Web is among the study's 12 companies. The new cohort, which includes CRN member Garden of Life, strengthens the statistical reliability of liver safety results and the impact of long-term CBD on drowsiness or testosterone levels.
CRN members CV Sciences' Duffy MacKay, N.D., and Vicente Sederberg's Shawn Hauser discussed the path forward for CBD last week at the 9th Annual Legal, Regulatory & Compliance Forum on Dietary Supplements (now available on demand). They were optimistic that there could be movement toward national regulation, even as questions remain as to how hemp might be addressed in a federal cannabis framework. 
CRN member DSM—the largest nutritional ingredient supplier for U.S. supplements—this week announced its entry into the CBD marketplace through a partnership with Colorado-based Mile High Labs, a leading pharma-grade supplier of hemp CBD.
As reported in Natural Products Insider, "That such a large supplier of dietary supplement nutritional ingredients has gotten into CBD underscores that the market is ready to be taken to the next level." 
---
IADSA 'Mind the Gap' resource spotlights link between vitamin D, fall prevention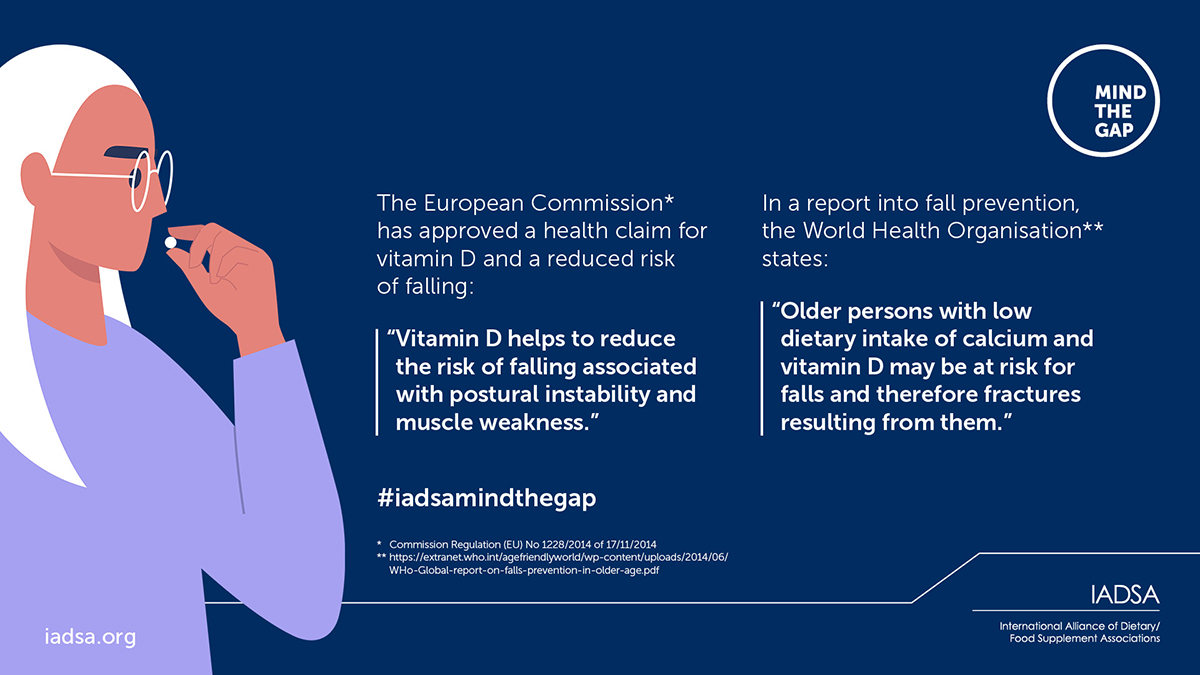 "Growing evidence supports [that] dietary calcium and vitamin D intake improves bone mass among persons with low bone density and that it reduces the risk of osteoporosis and falling," the World Health Organization (WHO) states in a report on vitamin D and fall prevention in senior adults. This link is the focus of IADSA's latest "Mind the Gap" resource. Building on IADSA's "Bridging the Vitamin D Gap" story, the new resource offers helpful information on the beneficial role of vitamin D in supporting muscle function, strength, and body balance to prevent dangerous falls.
With the scientific community giving increased attention to the role of vitamin D in fall prevention, regulatory bodies are taking note. As noted in the new IADSA campaign, the European Commission has approved a health claim—"Vitamin D helps reduce the risk of falling associated with postural instability and muscle weakness."
"Mind the Gap" is an information resource created by IADSA to facilitate sharing of positive stories about the benefits that supplements offer to consumers all over the world and society at large. Learn more here.
CRN is a member of IADSA, with President & CEO Steve Mister currently serving as vice chair. CRN applauds IADSA's efforts and is aligned in educational efforts of its own about vitamin D with the recently-launched "Vitamin D & Me!" consumer education campaign.