Top research organizations address covid 19 challenges pivoting toward new opportunities
Top research organizations address COVID-19 challenges, pivoting toward new opportunities
JULY 28, 2020
Clinical research organizations adapt best practices to meet COVID-19 challenges
The fundamental importance of ensuring studies are well-designed has been magnified by challenges brought about by COVID-19. The pandemic has also shown that attentive, engaged, and communicative partnerships among research organizations and their sponsors is critical. Annahita Ghassemi, Ph.D., director, Global Product Safety & Clinical Affairs, at CRN member Church & Dwight Co. Inc.—and chair of CRN's Senior Scientific Advisory Council, and CRN's Luke Huber, N.D., MBA, share takeaways from top experts in clinical research in their new article via Nutraceuticals World.
 

Clinical trials, sports nutrition and COVID-19 intersect
Research labs and in-person studies have been hindered by the pandemic, but brands must innovate and move forward. Read more via Natural Products Insider.
Preparedness is critical, as experts brace for additional surges in COVID-19
In this short clip, Joshua Baisley, of CRN Associate Member, Nutrasource Pharmaceutical & Nutraceutical Services, discusses the importance of planning for disruptions and ensuring detailed documentation and clear communication among all parties, especially during these uncertain times. Access CRN's full webinar for his complete presentation.
Research directors emphasize importance of robust framework of guideline

International Conference on Harmonisation (ICH) Good Clinical Practice (GCP) Guidelines are global quality standards that form the primary foundation of the clinical research industry—meant to complement additional inputs, Andrew Gregg, of CRN associate member, dicentra, noted during CRN's webinar on COVID-19 and the impact on supplement research. These include safety management and exposure reduction efforts in accordance with local and global guidelines, and enhanced, protocol-specific participant safety considerations.
FDA drug, biologics guidance provides useful information for supplement research, as well
Though most dietary supplement studies are not under FDA review, many in the industry rely on and mirror the agency's provided guidance while conducting nutrition trials. FDA addresses challenges with conducting research while under a shelter-in-place order in its guidance for industry sponsors, investigators, and institutional review boards (IRBs)—a document that research administrators should familiarize themselves with, especially with a resurgence of COVID-19 predicted, according to John Marshall of CRN Associate Member, Biofortis Clinical and Sensory Research.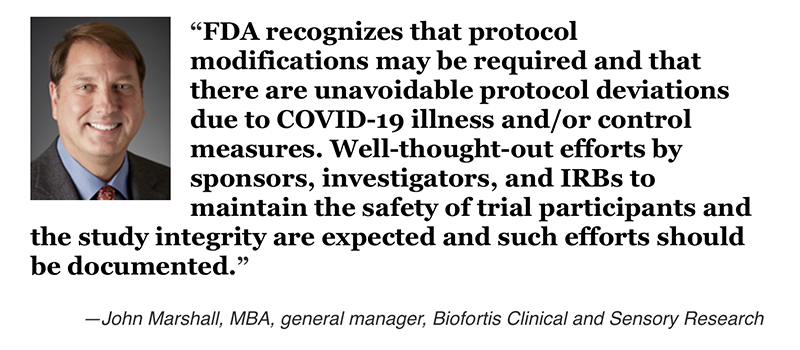 Sponsors find new opportunities in studies underway
The COSMOS trial examining multivitamin and cocoa flavanol effects on various health endpoints has proactively added to its data collection based on the impact of COVID-19 among its 22,000 participants.
COSMOS will now also explore how risk factors and a subject's diet and lifestyle habits play into susceptibility and severity of outcomes. The researchers are leveraging the biospecimen collection to learn more about the mechanism of action of SARS CoV-2, the virus that causes COVID-19. Learn more.