---
CRN and the Dietary Guidelines for Americans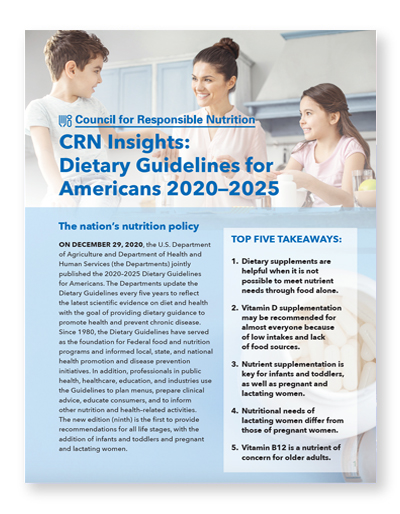 On December 29, 2020, the U.S. Department of Agriculture and Department of Health and Human Services (the Departments) jointly published the 2020–2025 Dietary Guidelines for Americans.
CRN has engaged in the Dietary Guidelines Advisory Committee's guidelines development process since 2018 to advocate for inclusion of dietary supplements in recommendations.
CRN provided public and oral comments throughout the Guidelines process, beginning with the selection of review topics, continuing through the deliberations of the Advisory Committee, and culminating in a detailed response to the scientific report. CRN provided the Departments with recommendations, based on the Advisory Committee's findings, to incorporate into the Dietary Guidelines.
 
Nutritional considerations for each life stage
 
"A strength of the 2020 guidelines is the inclusion of an expanded discussion on special nutritional considerations for each life stage."
—CRN's Haiuyen Nguyen, Regulatory Affairs Professionals Society's (RAPS)  Regulatory Focus
The newest Dietary Guidelines edition (ninth) is the first to provide recommendations for all life stages, with the addition of infants and toddlers and pregnant and lactating women.
Dietary supplements in the Dietary Guidelines
 
A fundamental premise of the Dietary Guidelines is that nutritional needs should be met primarily from foods and beverages.
However, the Guidelines recognize that dietary supplements may be useful in providing nutrients that otherwise may be consumed in less than recommended amounts or that are of particular concern for specific population groups.
 
---
---

Press release 
—Guidelines recognize supplements help meet nutrient needs unobtainable from food intake; identify groups to benefit from supplements; incorporate CRN recommendations—
Dec. 29, 2020
Past coverage of the Dietary Guidelines in the Daily Supplement
 
Aug. 18, 2020 | CRN emphasizes importance of supplementation for nutrients of public health concern, key life stages following Dietary Guidelines report
Aug. 3, 2020 | CRN's Nguyen to deliver oral comments at UDSA/HHS pubic meeting on Dietary Guidelines report
July 24, 2020 | DGAC report recognizes role of supplements for pregnant, lactating women
June 25, 2020 | 2020 Dietary Guidelines Advisory Committee acknowledges role of supplements in supporting health
July 2019 | WATCH: CRN's Hauiyen Nguyen delivers comments to the DGAC