Harrington
Katharine Harrington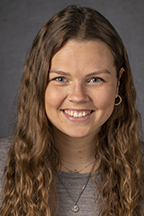 About my current work...
I am currently a second-year student at Tufts Friedman School getting my M.S. in Nutrition Interventions, Communications, and Behavior Change. I am also taking my DPD courses at Simmons University and am on my way to become a Registered Dietitian. I am a Teaching Assistant for a Principles of Nutrition course and I am a Graduate Assistant at ChildObesity180 working on telehealth solutions for WIC programs. 
 
CRN's impact on me...
I could sit and learn about new research going on in the nutrition science field all day, so the CRN Day of Science was a wonderful experience for me. It was well rounded and covered a wide variety of science from probiotics, to nutrition technology interventions, to defining healthy aging. The food was delicious and the leaders in the supplement industry that I had the pleasure of meeting were friendly and encouraging. Day 1 of the Annual Conference was more industry focused and gave me an inside look on the vitamin and supplement world. It was great to see the audience challenge the speakers and have a meaningful discussion about current topics, specifically CBD. I would highly recommend the CRN Day of Science and Annual Conference to students looking to go in the future; I gleaned new insight and made connections that I am very thankful for.