Emerging evidence suggests a relationship between Vitamin D and COVID-19. This new CRN initiative will highlight research being conducted on this relationship, provide insights for the links between Vitamin D levels and COVID-19, and deliver that information to relevant stakeholders.
Is the message about vitamin D getting through?

CRN Foundation Announces Evidence Linking Vitamin D and COVID-19 via Vitamin D & Me! Education Initiative
 
---
Learn more via the CRN Foundation's educational initiative:

---
Former U.S. Surgeon General: 'We can't wait for perfect evidence' on vitamin D and COVID-19
"It is our responsibility as physicians not to wait for perfect evidence when making life-and-death decisions," urged former U.S. Surgeon General Richard Carmona, M.D., MPH, now distinguished professor of public health and COVID-19 incident commander at the University of Arizona. 
In a recent op-ed for MedPage Today, Dr. Carmona, with co-authors Vatsal Thakkar, M.D., and John Umhau, M.D., MPH, noted that, "Given the safety profile of vitamin D, the 40% prevalence of vitamin D deficiency in the U.S., and the fact that this season will likely be the deadliest phase of the pandemic to date, we need to act now." Read the full op-ed here.

Over 200 scientists and doctors call for increased vitamin D use to combat COVID-19
More than 200 health, science, and medical experts from the U.K., U.S., and Europe have signed on to an open letter sent to world governments affirming there is clear scientific evidence that vitamin D reduces COVID-19 infections, hospitalizations, and deaths. The list has grown since first reported last month by NutraIngredients.
Meet Kendall Ridley, leading communications efforts for CRN's new Vitamin D Study Task Force
CRN's Vitamin D Study Task Force, formed in September 2020, is moving forward with development of a program to amplify messaging around research on vitamin D and COVID-19. Funded by member contributions to the CRN Foundation, the program will include a website that tracks and summarizes research as well as educational outreach to a key target audience driving them to the data. 
CRN Associate Member Nutrasource, a full-service contract research organization and solutions provider will develop the scientific content for the site. CRN Senior Director Communications, Kendall Ridley, is leading communications efforts and provides an update in this short video.
Meet Kendall Ridley and hear a quick update on CRN's vitamin D education initiative targeting audiences 55 and older.
Vitamin D, visualized: Google Trends shows continued interest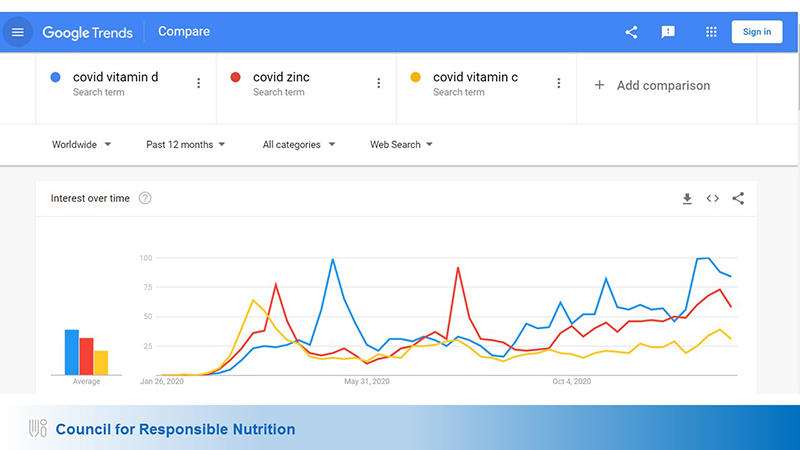 Hat tip to CRN Board Chair Barry Ritz, Ph.D., for sharing this striking visualization of the continued and growing interest in vitamin D among consumers.
Data 'coming in as we speak' on COVID-19, vitamin D expert says
"We do not yet have enough data to make strong scientific claims that vitamin D can prevent upper respiratory tract infections and certainly not for COVID-19, but the data are coming in on that as we speak," Susan Lanham-New, Ph.D., of the University of Surrey explained, during a CRN-I hosted webinar in November 2020. "It's important for populations to avoid deficiency and to absolutely take a supplement during the winter," Dr. Lanham-New advised.
Dr. Lanham-New recently led a vitamin D/COVID-19 consensus paper published in the British Medical Journal and has contributed to coverage in the Wall Street Journal,  New Scientist, Financial Times, New York Times and other media outlets on vitamin D and COVID-19, as well as a Guardian podcast. 
Dr. Lanham-New is currently working with colleagues at the Universities of Surrey, Southampton, and Oxford, studying vitamin D and COVID-19 in the UK Biobank. Learn more in her full CRN-I presentation, originally airing Nov. 17, 2020, as part of the CRN-I 2020 Fall Webinar Series. The program also included a discussion of sarcopenia and the importance of an accurate measure of muscle mass and the influence of dietary protein and essential amino acids, with William Evans, Ph.D., of Berkley University.
WATCH: Dr. Lanham-New on vitamin D