Event Start Date
Mar 19, 2020
Listen to the recording here of the March 19 teleconference hosted by CRN and Covington & Burling LLP on COVID-19's impact on the dietary supplement industry.
As the legal, regulatory, and commercial implications of coronavirus COVID-19 continue to evolve, Covington's lawyers and advisors are helping companies navigate the complex considerations that companies around the world are facing and develop plans and strategies in response.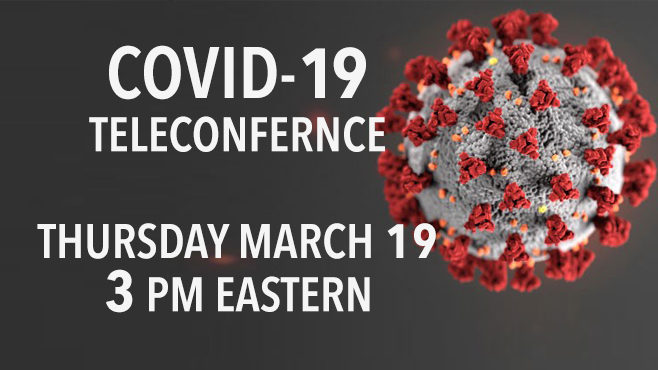 Call Agenda
Opening Remarks
Steve Mister, President & CEO, CRN
Covington Introductions and Food Industry Regulatory Considerations
Miriam Guggenheim
Food, Drug, and Device Practice Group, Covington
Public Policy Considerations
What is happening at the Federal, state, and local levels
Joan Kutcher / Matt Shapanka
Public Policy Practice Group, Covington
Additional remarks of presenter Joan Kutcher, provided March 20:
I would like to clarify my remarks from yesterday's teleconference on the legal issues affecting dietary supplement companies during the COVID-19 pandemic. Congress is currently considering a proposed legislative package, the Coronavirus Aid, Relief, and Economic Security Act, which I referenced on that call. At the time of our call, I had the conceptual language, but we now have reviewed the legislative text, Section 4402, entitled "Inclusion of certain over-the-counter medical products as qualified medical expenses." Despite the section title, closer inspection of the provision indicates that it is very narrowly tailored to recognize "menstrual care products" as medical expenses under the IRS Code. This change would allow taxpayers to receive reimbursement for their menstrual care product purchases from their Flexible Spending Accounts and Healthcare Savings Accounts. Recognition as a medical expense would also encourage states to remove sales tax from these products. This provision appears to be very narrow and included in the legislation to build political support for the bill among certain constituencies within Congress. Opportunities to expand the provision to include all OTC medicines and dietary supplements appear limited given the fast-track process for the bill.
Employment and Employee Benefits
Employee privacy and communications issues, best practices
Lindsay Burke / Carolyn Rashby
Employment Practice Group, Covington
Insurance Considerations
Property Damage and Business interruption coverage, including supply chain disruptions/event cancellation coverage (see Covington's 'Best Practices' here)
Matt Schlesinger
Insurance Practice Group, Covington
Commercial and Financial Matters 
Force majeure provisions, supply agreements
Andrew Ment
Corporate Practice Group, Covington