probiotic supplements
4 THINGS TO KNOW ABOUT:
Probiotic Dietary Supplements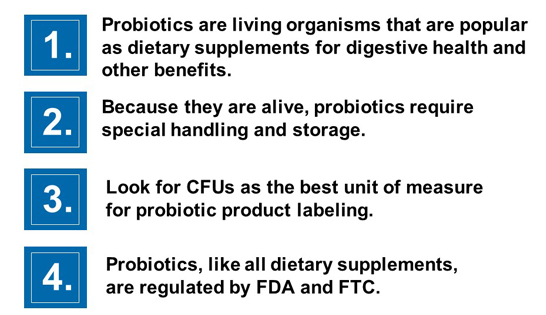 "Labeling in CFUs gives consumers the information they need to know about the number of live organisms in the product, rather than their weight. A bottle full of dead probiotics may weigh the same as live ones, but it's the living organisms that provide desired health benefits. FDA doesn't currently require labeling for live organisms, but responsible marketers provide this information and indicate the expected measurement through the product's full shelf life."
—Andrea Wong, Ph.D., SVP, Scientific & Regulatory Affairs
---
---
Further reading—CRN published bylines on probiotics:

Probiotics webinars:
---
Consumer Usage of Probiotics: 
Results of the 2020 CRN Consumer Survey on Dietary Supplements reveal that 11% of supplement users report taking probiotics, with some slight variation among age groups. Supplement users aged 35-54 are most likely to take probiotics, with 13% of adults in this age cohort reporting usage; followed by 11% of users aged 55+; and 10% of users aged 18-34. Historically, probiotics usage has skewed female and to adults aged 35-54.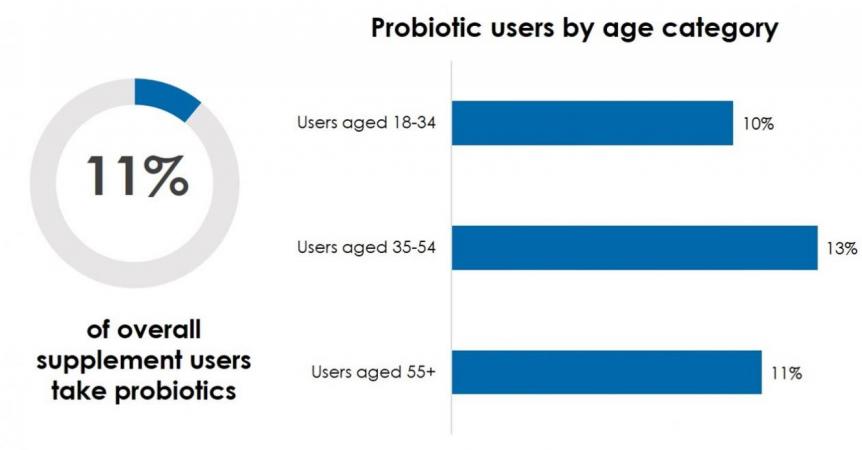 Among those who report taking a probiotic, a majority (57%), cite GI support or general health and 51% report taking this ingredient for immune health.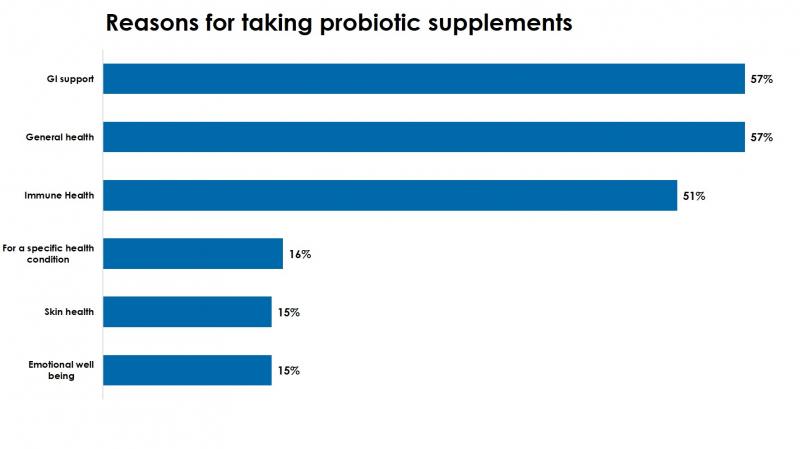 32% of supplement users report taking supplements for immune support, according to data from the 2020 Consumer Survey. Of those users who take supplements for immune support, 27% report taking probiotics.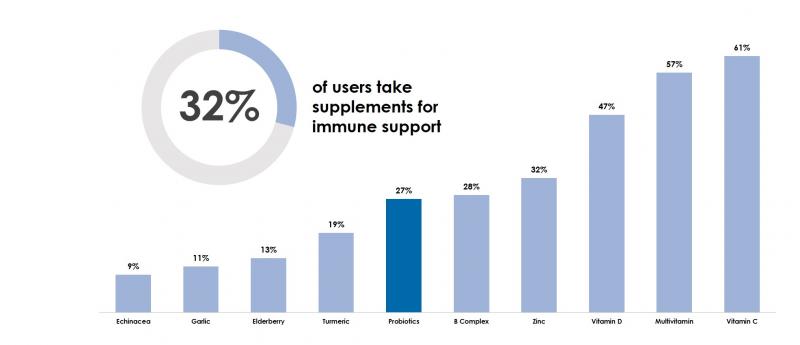 ---

Additional Tools and Resources:
CRN/IPA Best Practices for Probiotics: The Council for Responsible Nutrition (CRN) and the International Probiotics Association developed scientifically-based voluntary best practices  that address the labeling, stability testing, and storage recommendations for probiotic-containing dietary supplements and functional foods. These best practices are intended to facilitate transparency and consistency. 
 
Roadmap for Retailers: The Council for Responsible Nutrition created this guide to assist its members, their customers, and retailers selling dietary supplements with meeting their obligation under the law. As manufacturers and marketers of supplements are limited by law as to the claims they can make about their products on the labeling, in print or broadcast advertising, similar requirements and restrictions apply to retailers and distributors who speak directly with consumers. This guide supports individuals assisting consumers at the point of purchase to discuss dietary supplements accurately and legally. 
Interested in learning more about the retail education campaign or CRN's Probiotic Working Group?
Contact Andrea Wong, CRN's senior vice president, scientific & regulatory affairs, for more information.