Associate Spotlight NMI 031721
CRN ASSOCIATE MEMBER SPOTLIGHT: NATURAL MARKETING INSTITUTE
MARCH 17, 2021
Learn how to leverage NMI's data to chart your pathway for growth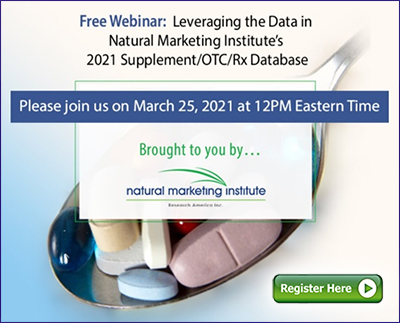 The nutritional supplement industry is always dynamic and, while this past year could even be called turbulent, steady growth drivers can help direct the pathway for growth.
Join NMI's webinar on Thursday, March 25, to get an overview of those drivers.
---
Get your exclusive CRN Member discount
Receive 20% off the purchase of 3+ Global Supplements/OTC/Rx Consumer Trends & Insights Reports with discount code CRN20 at checkout.

New 2021 Reports Available: 
2019 Reports Available: 
Argentina, Mexico, Brazil, Colombia, Japan, Indonesia, China, and India
---

Set up a consultation
Natural Marketing Institute's Supplement, Health & Wellness, and Cannabis-focused studies yield multi-year data sets that can be analyzed—across studies for your key interests. Millennials, herbal users, persons interested but not using, etc.
Click here to set up a consultation with CRN-applied discounts for your custom analysis.
---

Since 1990, Natural Marketing Institute has been a global specialist in the health & sustainability marketplace. 
1 million+ Consumers, 6 USA & Global Databases, 30+ Countries, 15 Market Sectors