Kjell
Emily Kjell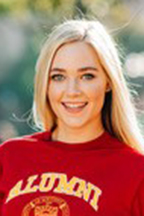 About my current work...
I am a graduate of USC with a BS degree in neuroscience, and I am currently in the Tufts masters of nutrition and science policy program. I hope to attend medical school within the next year, which I decided to postpone to pursue my current degree work as I felt knowledge of nutrition was imperative to becoming an informed doctor. Concurrent with my coursework, I am interning with a few neurologists where I am able to shadow their day-to-day work and am relied on for information about nutrition, providing up-to-date research for each doctor applicable to the conditions they treat such as chronic migraine, multiple sclerosis, and myasthenia gravis. I am additionally helping the research department recruit patients based on given criteria.
CRN's impact on me...
The CRN conference was a way for me to use what I had learned in the classroom through the MNSP program and apply it to nutrition for real-life application; this included topics on healthy aging, and the most impactful, "Eat to Beat Disease" by Dr. William Li. I heard from speakers about new technologies to measure nutrition on an individual basis, and newly discovered pathways implicated in aging which can be slowed with supplementation. As someone looking forward to medical school, the connection between nutrition and the disease state was one of the most interesting aspects to me. Ultimately, the CRN conference expanded my knowledge base and was so fascinating, I plan to attend in subsequent years.