Ward
Catherine Ward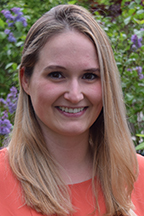 About my current work...
I am a registered dietitian, and am currently working as a nutrition scientist for the personalized nutrition company InsideTracker, and as a nutrition consultant to New York Times Bestselling Author Dr. William Li.
CRN's impact on me...
The CRN Day of Science was a transformative experience as a graduate student. As someone who primarily had worked in academic research, it was interesting and important to see the applications of science to an industry. I made several meaningful connections and mentors at the conference that I keep to this day.