Wojcik
Lyn Wojcik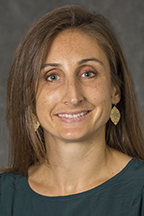 About my current work...
I will complete my master's program at the Tufts Friedman School this December with a focus on Marketing and Innovation for Sustainable Food Business. I enjoy entrepreneurial ventures and am currently the Marketing Lead for Kandula Brewing Company (hard kombucha). I look forward to joining a mission-driven food company in the Boston area in the New Year!
CRN's impact on me...
The CRN Day of Science and Conference helped me to see that there are many in the dietary supplements industry seeking for high standards and transparency of ingredients. In my work with Kandula, we study probiotics and the microbiome, so learning about this area at CRN was extremely insightful. I really appreciated the integrative focus toward health and nutrition at the conference, such as the talk on the links between sleep and nutrition. I had been reading Rita McGrath's "Little Black Book of Innovation" for a class at the time of the conference, so meeting her was truly an honor!