Washington, D.C., August 14, 2019—The Council for Responsible Nutrition (CRN), the leading trade association for the dietary supplement and functional food industry, today announced that Jake Wood, Team Rubicon CEO and author of "Take Command: Lessons in Leadership—How to Be a First Responder in Business," will speak on the final morning of The Conference: CRN's Annual Symposium for the Dietary Supplement Industry, Saturday, Nov. 9.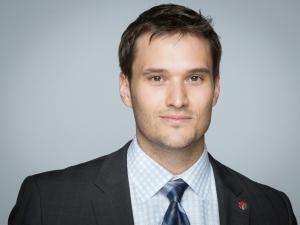 In 2010, following the Haiti earthquake, Mr. Wood co-founded Team Rubicon, a nonprofit organization that recruits, trains and deploys military veterans to communities impacted by disasters. Prior to Team Rubicon, Mr. Wood served in the U. S. Marine Corps for four years, during which he was deployed as a scout sniper to Iraq and Afghanistan. He left the Marine Corps as a sergeant, having earned the Navy-Marine Commendation Medal, and committed his future to veteran advocacy and disaster response. 
"Jake Wood is skilled in connecting his lessons learned on the front lines with challenges high-performing leaders are facing in today's unpredictable and fast-paced business environment," said Steve Mister, president & CEO, CRN. "Although we may not have the heroic experiences of leading a tour of Marines through an ambush or rushing to bring emergency relief to a disaster area, the dietary supplement industry executives attending The Conference have a desire to achieve clarity of mind and purpose amidst chaos. By attending this closing session on Saturday, attendees are guaranteed to leave with tools to achieve peak performance, to operate with agility and to adapt during the most trying of circumstances." 
The Conference takes place Wednesday, Nov. 6, through Saturday, Nov. 9, at the Park Hyatt Aviara in Carlsbad, California. Mr. Wood will take the stage on Saturday morning, Nov. 9, immediately following the "Breakfast With…" speaker (to be announced).
CRN offers four flexible registration options: 1) The Workshop/The Conference package; 2) The Workshop only; 3) The Conference only; and 4) The Workshop and first day of The Conference. Attendees must first register for CRN's events to be eligible for accommodations in CRN's room block group rate at the Park Hyatt Aviara. More details and registration can be found online: www.crnusa.org/2019events.
Note to Editor: The Council for Responsible Nutrition (CRN), founded in 1973, is a Washington, D.C.-based trade association representing 150+ dietary supplement and functional food manufacturers, ingredient suppliers, and companies providing services to those manufacturers and suppliers. In addition to complying with a host of federal and state regulations governing dietary supplements and food in the areas of manufacturing, marketing, quality control and safety, our manufacturer and supplier members also agree to adhere to additional voluntary guidelines as well as to CRN's Code of Ethics. Visit www.crnusa.org. Follow us on Twitter @CRN_Supplements, Facebook, and LinkedIn.