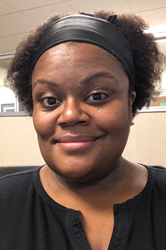 Manager, Science & Regulatory Affairs
Ms. Denton was responsible for providing administrative assistance to CRN's Science & Regulatory division. Before joining CRN, Rashidah pursued her passion in the food industry while managing communications and providing administrative support for the sports catering company, SuperFd Catering, and their special events company, Eco Caters. Rashidah worked closely with the area's professional sports teams in supplying substantially nutritious meals for their flights and post-game needs.
---
February 25, 2022
Dear Members of the CRN Community,
I write to you to share some very sad news that has impacted our CRN community—news that no leader ever wants to share. We have lost one of our own. We learned Tuesday evening that one of our CRN staff has passed away suddenly. Our much loved and respected CRN colleague Rashidah Denton died early Tuesday morning in an overnight fire in her apartment building.
The entire CRN staff team is heart-broken by this news. We know that all of you share in our loss because, for so many of our members, Rashidah was the name you saw on emails and meeting invitations, the friendly face and voice who welcomed you to our committee meetings and reminded you how to use the Zoom platform, and the first person you might have spoken with when you call CRN for regulatory questions. Please know that Rashidah, our Manager, Scientific & Regulatory Affairs, was all that and so much more. Her passing leaves a huge hole in our hearts and in our Science & Regulatory department. 
When I started to consider the appropriate accolades to convey our loss, I had only to turn to our recent Personnel Committee discussions. Rashidah's supervisor had written that she "has grown tremendously in her roles at CRN in the last three years and I often think she has been here much longer based on her level of knowledge and performance." Andrea's review noted Rashidah's organized and professional communications to members and her continuous improvement to enhance virtual and in-person meetings, making them a better experience for members. Staff, members, and event speakers all speak highly of her. I added my own assessment that Rashidah is "one of our star performers."
In her free time, Rashidah was a lover of great cooking, and her CRN colleagues were often the beneficiaries of this skill, as she without fail brought the tastiest, most outstanding dish to any occasion. Her warmth, her generosity and infectious good humor made quick friends of everyone on staff. 
Our local NBC station covered the fire in its evening newscast, which can be viewed here: https://www.nbcwashington.com/news/local/woman-man-killed-in-apartment-fire-in-southwest-dc-identified/2981695.
We know many of you will want to express your sympathy to her family or to donate in her name in some way to honor her memory. We will provide more information to you as we know more. But in the meantime, please send up a prayer for Rashidah, and her family and friends who are mourning this terrible loss. And please have a good thought for the CRN staff as we support one another in this tragedy.
Sincerely,
Steve Mister
President & CEO
Council for Responsible Nutrition