using crns new mobile app and sending feedback
Using CRN's new mobile app and sending feedback
Learn more about how CRN can implement member feedback.
See the hint from the app screen shot here on how to send this page to your email and watch on your computer while you play along on your phone.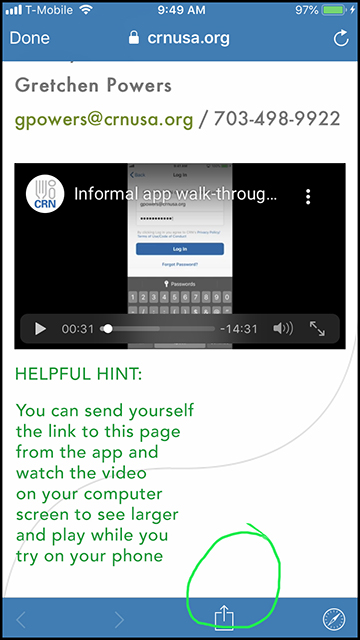 Thank you for your engagement with CRN.
We are happy to answer any questions or help with logging on, navigating the app. Please contact Gretchen Powers
(gpowers@crnusa.org / 703-498-9922) for assistance.
How CRN can use member feedback to enhance its member app ongoing
We view our CRN Connect mobile app—like so many digital communications these days—as a living, ever-evolving tool that we'll attempt to be as agile as possible in upgrading.
Some upgrades and changes we will need to make at the more "architectural" level that will depend on our app developers'/platform's capabilities and these can be made on a more periodic (quarterly) basis.
Other upgrades and enhancements will be things we CRN staff can control more directly and shift "on the fly" that will have more to do with how we staff users post, share and organize the content we plug into the platform. So, we'll be able to continue to receive and implement feedback ongoing, albeit with different timing, depending on the changes.
No matter your feedback, please let us know and we will see what we can do. 
Please email Gretchen Powers (gpowers@crnusa.org).