essential
2020: ESSENTIAL
Being essential requires agility and resilience to address disruptions.
CRN demonstrated our role as the essential trade association of the dietary supplement industry by listening and responding, focusing not on preserving the status quo but planning for a new future. 
Review the extraordinary year we had with our members in our 2020 annual report and celebrate the essential dietary supplement industry.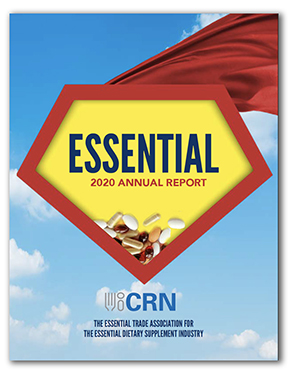 Scroll below and click through to learn more about how we emerged from 2020 stronger—driven by our mission, guided by our strategy. 
View on mobile. Jump to videos.
See past years here and CRN's Priority Initiatives for 2021 here. 
---
REPORT VIDEOS

"CRN has done a great job in establishing virtual platforms with its working groups and committees that actually helped the industry stick together and continue to move forward some of the initiatives that were established pre-COVID and were still in process. The ability to connect with CRN's working groups and take advantage of the training forums, such as webinars, has been so valuable."
— Josue Molina Ancient Nutrition

Being in association with your colleagues and competitors carries both privileges and responsibilities. Hear from CRN President & CEO Steve Mister about what you should expect from your association in an excerpt from his address at the NOW, NEW, NEXT conference.
Learn more about how CRN:
Practices transparency and accountability. We never forget: It's your dues.
Focuses on consensus building. That's our strength, but it's also our challenge.
Has expertise in this industry—passionate experts with the singular focus on making the world better for our members.
Produces results for a stronger industry—aligning our efforts to meet the demands of tomorrow's health-conscious and socially aware consumers.
Embodies purpose-driven leadership—understanding your challenges and delivering results.
---