CRN 2020 annual report
From our President & CEO and Board Chair, 2018–2020

"Everyone wants to be considered 'essential.'
What we learned in 2020 is that not every role is absolutely necessary or extremely important. Being considered essential means being able to stay open, being a priority purchase for our consumers, and being able to fill critical needs during perilous times.
We learned all too well in 2020 that your company and your products are essential, and so is your trade association.
Being essential requires agility and resilience to address disruptions. CRN took our role as your essential trade association by listening and responding, focusing not on preserving the status quo but planning for a new future.
Being essential means recognizing what you value in us and delivering on those expectations. CRN is nearly 200 companies and 20 professional staff with the singular focus of making the world better for this industry and the consumers who depend on our products for healthier lives.
We were essential yesterday. We are essential today. We will work to remain essential to you, to the industry, and to our consumers, tomorrow and beyond—together."
—Steve Mister President & CEO, Council for Responsible Nutrition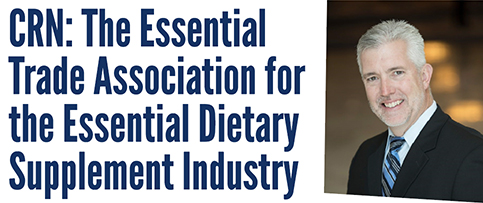 "CRN took bold action at the beginning of the pandemic, as shutdown orders swept the land.
We helped members troubleshoot new problems on the fly, from disruptions to increased demand.
We supported members, and ultimately consumers, as they looked to us more than ever to support their health and wellness during the health crisis.
CRN ensured that the full industry—from research to manufacturing, from testing to transport, and from supply chain to retail chain—was recognized as essential."
—David Campbell Bayer HealthCare, Chair, CRN Board of Directors, 2018–2020
1 | 2 | 3 | 4 | 5 | 6 | 7 | 8 | 9 | 10 | 11 | 12 | 13 | 14 | 15 | 16