Washington, D.C., February 7, 2018—The Council for Responsible Nutrition (CRN), the leading trade association for the dietary supplement and functional food industry, today announced the launch of a consumer education initiative designed to raise awareness of Selective Androgen Receptor Modulators (SARMs), a dangerous class of ingredients that poses a serious threat to consumer safety, particularly in the bodybuilding and fitness communities.
According to the Food and Drug Administration (FDA), SARMs are unapproved drugs illegally marketed as dietary supplements. Through its consumer education initiative, CRN amplifies recent warnings from FDA and supports efforts by the U.S. Anti-Doping Agency (USADA) to alert athletes to the dangers of SARMs—dangers which could destroy athletic careers and potentially increase the risk of life-threatening conditions such as heart attack, stroke, and liver damage.
 To inform the bodybuilding and fitness communities, CRN created a #SARMsCanHarm toolkit for fitness organizations that includes customizable flyers, newsletter material, and social media content featuring educational information on SARMs and how athletes can protect themselves from products containing these illicit ingredients. CRN has the support of leading associations representing fitness organizations and sports clubs, who are circulating the toolkit among their members and encouraging them to disseminate the educational information to their consumer clientele.
"Consumer safety is the number one priority of the dietary supplement industry," said Steve Mister, president & CEO, CRN. "We are grateful for the organizations helping us deliver responsible industry's firm message: SARMs are dangerous, illegal, and have no place in dietary supplements or in any sports nutrition regimen. Our goal is to equip consumers with the tools they need to make sound decisions when it comes to dietary supplements and to help them responsibly and judiciously use legitimate sports nutrition supplements to help them succeed in reaching their fitness goals."
SARMs are prohibited under the S1 Anabolic Agent category of the World Anti-Doping Agency (WADA) Prohibited List, and raise serious concerns for FDA, USADA, and the legitimate dietary supplement industry. Often listed "ostarine" or "andarine" as ingredients in adulterated products falsely labeled as dietary supplements, SARMs have the potential to be misused for athletic performance enhancement due to their anabolic properties and their ability to stimulate androgen receptors in muscle and bone.
"Every athlete knows the importance of honesty and fairness, and these unscrupulous companies are anything but sportsmanlike. Bad actors tarnishing the reputation of responsible industry must never be tolerated. CRN and its member companies fully support FDA's efforts to crack down on companies unlawfully manufacturing products containing SARMs," said Mr. Mister. "We hope that fitness organizations, sports clubs, personal trainers, and coaches across the country will join CRN and its members in taking a stand against SARMs and the risks companies marketing these products unapologetically present consumers."
For gyms, sports clubs, coaches, and personal trainers interested in accessing the #SARMsCanHarm toolkit, visit www.crnusa.org/SARMs. Additional information on SARMs and resources for athletes can be found at www.usada.org/SARMs.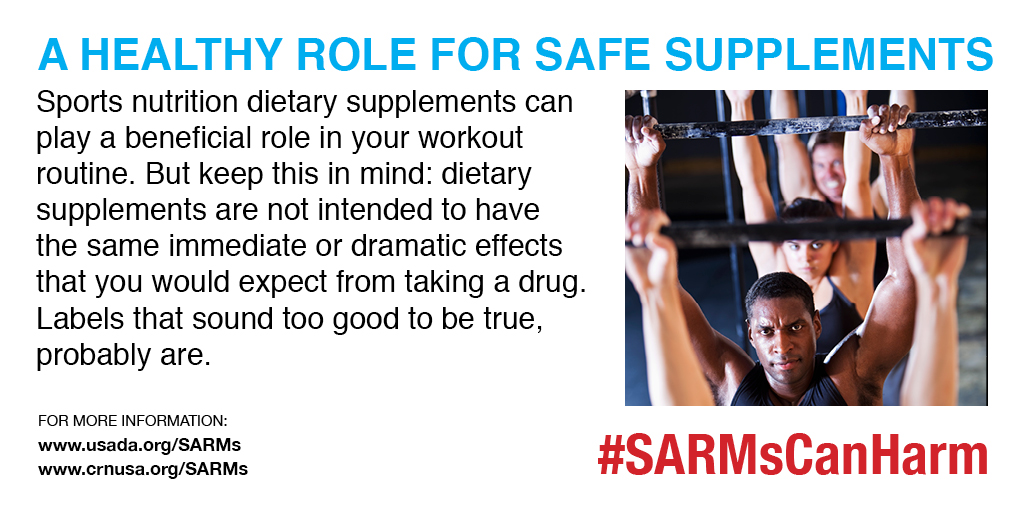 Note to Editor: The Council for Responsible Nutrition (CRN), founded in 1973, is a Washington, D.C.-based trade association representing 150+ dietary supplement and functional food manufacturers, ingredient suppliers, and companies providing services to those manufacturers and suppliers. In addition to complying with a host of federal and state regulations governing dietary supplements and food in the areas of manufacturing, marketing, quality control and safety, our manufacturer and supplier members also agree to adhere to additional voluntary guidelines as well as to CRN's Code of Ethics. Visit www.crnusa.org. Follow us on Twitter @CRN_Supplements and LinkedIn