Washington, D.C., September 24, 2019— The Council for Responsible Nutrition (CRN), the leading trade association for the dietary supplement and functional food industry, is pleased to announce that Andrea Wong, Ph.D., has been promoted to senior vice president, scientific and regulatory affairs, from vice president to lead the department and CRN's scientific and regulatory objectives.

"Dr. Wong has consistently played a strong leadership role at CRN and demonstrated commitment to the association and its member companies, dedication to the industry and expertise in scientific research and regulation, making her the obvious choice to lead the department," said CRN's president & CEO, Steve Mister. "She has led the association in its development of best practices guidelines for such things as protein, melatonin and probiotics, played an integral role in CRN's response to the New York Attorney General DNA barcode testing episode in 2015, and advocated on behalf of industry on the implementation of the Supplement Facts label changes."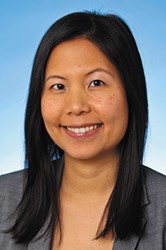 Dr. Wong first joined CRN in 2013 with extensive regulatory knowledge in food and nutrition, and over the past six years has been a leader of the science and regulatory affairs department in advocating for science-based nutrition and in evaluating and responding to scientific and regulatory issues on behalf of the industry. 

She has led the development of CRN's best practices guidelines, one of CRN's main self-regulatory initiatives. Dr. Wong worked to develop best practices guidelines for melatonin, protein and probiotics. She continues to be the association's expert on probiotics labeling, regulation and research. During the New York Attorney General DNA barcode testing issue in 2015, Dr. Wong played a major role in CRN's scientific response and the development of a white paper that identified weaknesses of the investigation. Additionally, she has worked extensively on CRN's efforts surrounding the changes to the Supplement Facts label. Dr. Wong advocated on behalf of the industry in response to FDA's planned changes to the Supplement Facts label, helped members to implement the mandated changes, and worked with CRN's communications department in the development of the "Label Wise" consumer education campaign (www.BeLabelwise.org). 

"Dr. Wong's knowledge of the food and supplement industry, and history with CRN makes her the perfect choice to lead the department," said Dr. Annahita Ghassemi, Director, Global Product Safety & Clinical Affairs at Church & Dwight Co. and Chair of CRN's Senior Scientific Advisory Council. "It is exciting to watch CRN grow from the inside and continue to have strong leadership committed to moving CRN and industry's objectives forward. Working with Dr. Wong and CRN's science and regulatory department is a pleasure and I look forward to continuing to work with the team to confront issues currently facing the industry."

Starting January 2019, Dr. Wong was elected to serve as the president of the Institute of Food Technologists' Washington D.C. section and will carry that position until end of August 2020. Prior to joining CRN, Dr. Wong worked as a senior scientific and regulatory consultant for the consulting firm Intertek (formerly Cantox Health Sciences International), in Ontario, Canada. Dr. Wong earned her B.S. from Queen's University in Kingston, Ontario, and her Ph.D. from the University of Toronto, Ontario. 
Note to Editor: The Council for Responsible Nutrition (CRN), founded in 1973, is a Washington, D.C.-based trade association representing 150+ dietary supplement and functional food manufacturers, ingredient suppliers, and companies providing services to those manufacturers and suppliers. In addition to complying with a host of federal and state regulations governing dietary supplements and food in the areas of manufacturing, marketing, quality control and safety, our manufacturer and supplier members also agree to adhere to additional voluntary guidelines as well as to CRN's Code of Ethics. Visit www.crnusa.org. Follow us on Twitter @CRN_Supplements, Facebook, and LinkedIn.