Washington, D.C., August 1, 2017—Rep. Mia Love, R-Utah, has taken on a new leadership role as a co-chair of the Congressional Dietary Supplement Caucus (DSC). Love replaces Rep. Jason Chaffetz, formerly a DSC co-chair, who retired from the House of Representatives this summer.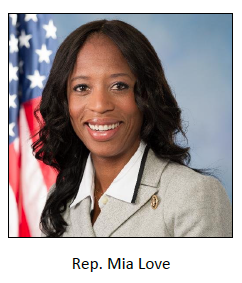 The DSC is a bipartisan congressional group of legislators, who promote discussions among lawmakers about the benefits of dietary supplements, provide tips and insights for better health and wellness, and promote research about the health care cost savings these products provide. In her new role, Rep. Love joins Sens. Orrin Hatch, R-Utah, and Martin Heinrich, D-N.M., and Rep. Jared Polis, D-Colo., as DSC co-chairs.
I'm excited to begin work on behalf of the more 68 percent of Americans, who take dietary supplements every year, " Love said. "The industry is also a crucial part of Utah's economy. Not only do dietary supplement companies provide jobs and opportunities in my state, they give consumers the opportunity to make educated choices to fill critical nutrient gaps and achieve better health.
Love, who represents Utah's 4th congressional district, is the former mayor of Saratoga Springs, Utah, and is known as a tireless advocate of the need for personal accountability. She currently serves on the House Financial Services Committee and on the Monetary Policy and Trade, Financial Institutions and Consumer Credit, and the Terrorism and Illicit Financing Subcommittees.
Established in 2006 and with 32 members of Congress as members, the DSC sponsors regularly scheduled luncheon briefings on Capitol Hill for members of Congress, their staffers, the media and the public.
Rep. Love's ascension to co-chair of the DSC drew praise from the major trade associations representing the dietary supplement industry. "We greatly appreciate Rep. Love volunteering her valuable time and expertise to lead this Caucus in representing the regulated dietary supplement industry on Capitol Hill," said Michael McGuffin, president of the American Herbal Products Association. "Rep. Love's leadership will help the Caucus continue to educate policymakers about this growing industry's significant and positive impact on consumer health and the U.S. economy."
"Congresswoman Love deeply understands the value of dietary supplements and the important role they play for the millions of Americans who use them to support their overall health and wellness," said Scott Melville, president and CEO of the Consumer Healthcare Products Association. "We look forward working with her and the rest of the DSC to educate Congress about the policy issues that impact the supplement industry."
"As more than 170 million Americans take dietary supplements each year, the Dietary Supplement Caucus serves as an important resource to ensure legislators and their staff learn more about the wellness benefits of dietary supplements and the regulatory complexities of our booming industry," said Council for Responsible Nutrition (CRN) President & CEO Steve Mister. "CRN welcomes Rep. Love to her new position and is eager to see how her voice and fresh perspective will further the Caucus' crucial work."
Loren Israelsen, president of the United Natural Products Alliance, which is based in Salt Lake City, said, "UNPA is thrilled that Rep. Love is taking on this important new leadership role. We look forward to working with her to help grow the $41 billion national dietary supplement industry, which includes more than $13 billion in supplement business activity in Utah. The dietary supplement industry is a positive and powerful economic engine that creates thousands of jobs while helping Americans support their healthy lifestyles."
Note to editor: The American Herbal Products Association (AHPA) is the national trade association and voice of the herbal and botanical products industry. AHPA is comprised of more than 300 domestic and foreign companies doing business as growers, processors, manufacturers, and marketers of herbs and herbal products, including foods, dietary supplements, cosmetics, and non-prescription drugs. Founded in 1982, AHPA's mission is to promote the responsible commerce of herbal products. Website: www.ahpa.org.  
The Consumer Healthcare Products Association (CHPA) is the 136-year-old trade association representing the leading manufacturers and marketers of over-the-counter (OTC) medicines and dietary supplements. Every dollar spent by consumers on OTC medicines saves the U.S. healthcare system $6–$7, contributing a total of $102 billion in savings each year. CHPA is committed to empowering consumer self-care by preserving and expanding choice and availability of consumer healthcare products. Visit www.chpa.org and www.KnowYourOTCs.org.
The Council for Responsible Nutrition (CRN), founded in 1973, is a Washington, D.C.-based trade association representing 150+ dietary supplement and functional food manufacturers, ingredient suppliers and companies providing services to those manufacturers and suppliers. In addition to complying with a host of federal and state regulations governing dietary supplements and food in the areas of manufacturing, marketing, quality control and safety, our manufacturer and supplier members also agree to adhere to additional voluntary guidelines as well as to CRN's Code of Ethics. Visit www.crnusa.org. Follow us on Twitter @CRN_Supplements and LinkedIn.
The United Natural Products Alliance (UNPA) is an international trade association representing more than 100 leading natural products, dietary supplement, functional food, scientific and technology and related service companies that share a commitment to provide consumers with natural health products of superior quality, benefit and reliability. Founded in Utah in 1992, UNPA was instrumental in the passage of the 1994 Dietary Supplement Health and Education Act (DSHEA) and continues to take a leadership position in legislative and regulatory issues and industry best practices. Visit www.unpa.com.