Most people who have flexible spending or health savings accounts think supplements should be covered as "medical expenses"
APRIL 18, 2023, Washington, D.C. —Today, the Council for Responsible Nutrition (CRN) and the Consumer Healthcare Products Association (CHPA) announced the findings of a jointly-commissioned Ipsos survey, which explored people's understanding of how their flexible spending accounts (FSAs) and health savings accounts (HSAs) are used and how they should work, specifically regarding the purchase of dietary supplements.
Nearly eight out-of-10 respondents (78 percent) who have an FSA or HSA want their accounts to include dietary supplements as allowable reimbursements. Under current law, FSAs and HSAs allow employees to put aside money before it has been taxed to pay for certain healthcare costs related to medical care, prescription drugs, dental and vision care, over-the-counter medications, menstrual products, and other health-related items. However, the law does not routinely allow dietary supplements (including multivitamins, probiotics, essential nutrients, and omega-3s) to be recognized as "qualified medical expenses."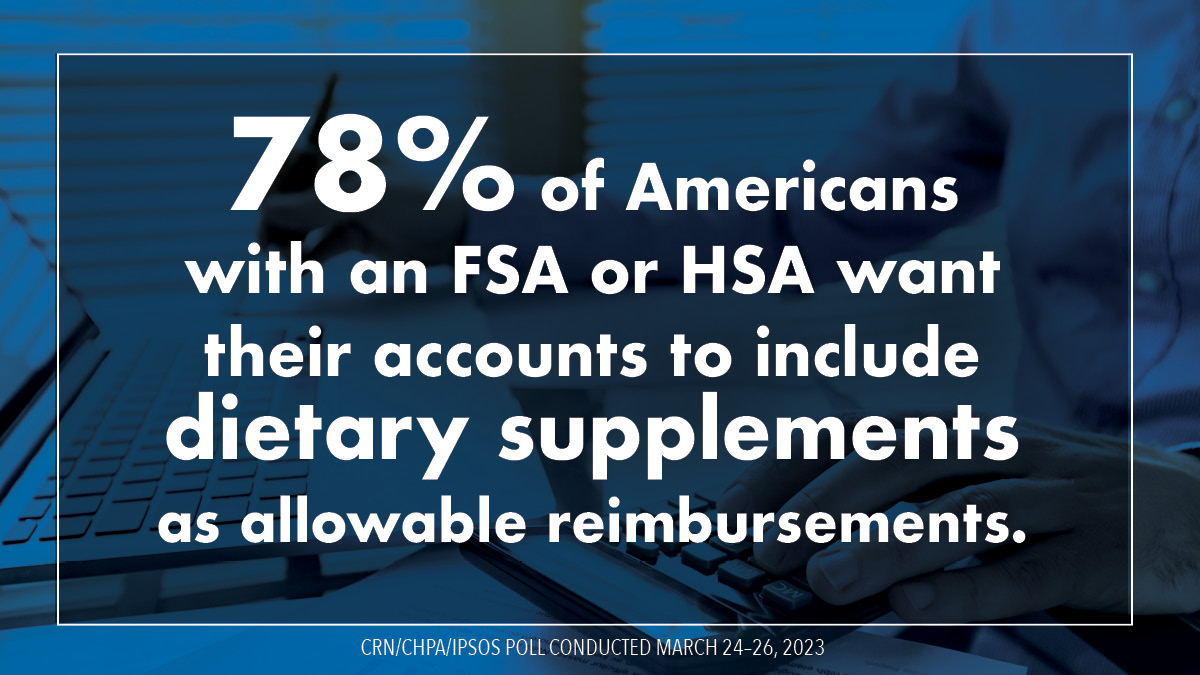 "Although 75 percent of Americans use some type of dietary supplement1, tens of millions of these same people, who invest into FSAs and HSAs, can't then use that money to purchase, for example, children's vitamins for their kids," said Steve Mister, President & CEO of CRN. "Our interpretation of this survey tells us people don't want to be penalized any longer for being proactive about their health by purchasing products that will help to keep their families healthy."
It is estimated that, in 2020, Americans put more than $30 billion into FSA accounts2 and, at the beginning of 2022, had approximately $100 Billion invested in HSAs3.  One surprising finding from the research was that one-third of FSA/HSA account owners (33 percent) mistakenly believe they can already use their pre-tax account savings to purchase vitamins and other dietary supplements for general health—and another 29 percent acknowledged they "don't know" whether these products are covered or not.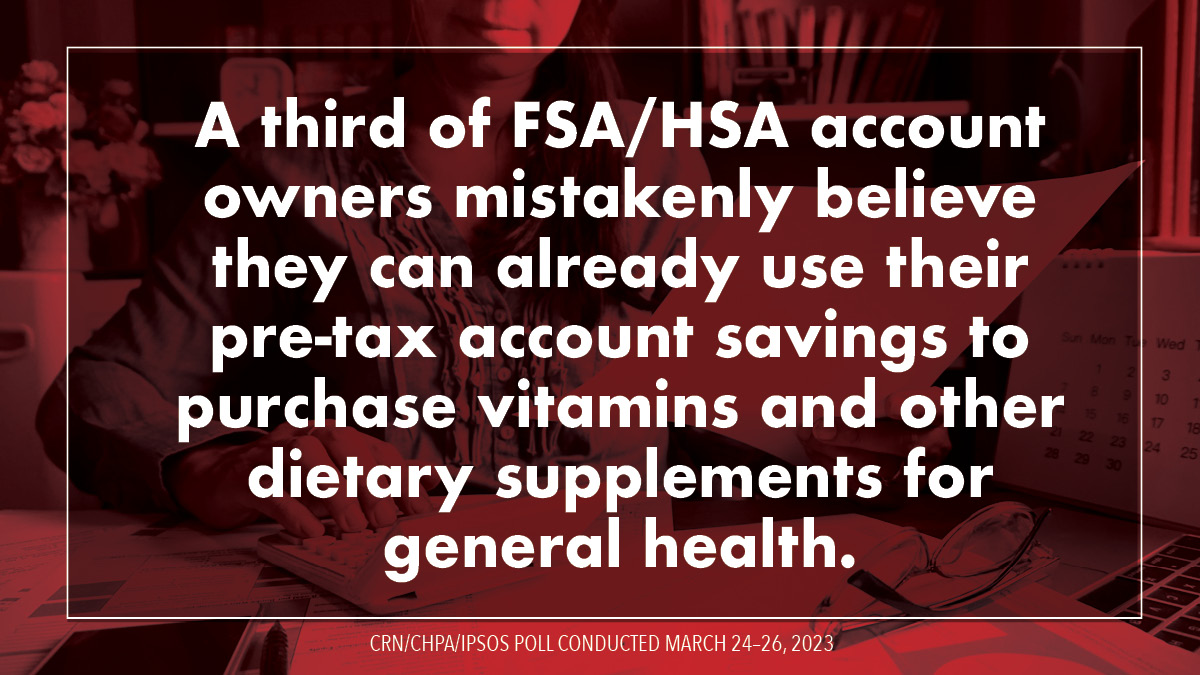 "Consumers deserve and want the ability to choose how to best use their money to stay healthy and practice self-care," said Scott Melville, President & CEO of CHPA. "With more Americans incorporating dietary supplements into their overall self-care plans, we must recognize the ever-increasing role they play in helping people improve their health and wellness. Today's proactive consumers want flexibility to make pre-tax purchases of a range of health products, from OTC medicines and devices to dietary supplements, and these accounts should be a resource that encourages people to take charge of their health."
In addition, the potential savings to the U.S. healthcare system from the use of specific dietary supplements by certain populations could reduce the direct and indirect medical costs associated with several common conditions by tens of billions of dollars annually4,  according to a separate CRN study. 
Expanding access to supplements continues to be a priority for CRN and CHPA in 2023, with the anticipated introduction of new legislation in Congress. While critics of previously introduced bills worried expanding the allowable medical expenses to include dietary supplements would mean less overall tax revenue for the federal government due to more money flowing to these tax-free accounts, the survey actually revealed that only 34 percent of FSA/HSA holders said they are likely to increase their current investment levels, and only 25 percent of non-account holders said the change would make them open an account and contribute to it.
"Americans are using dietary supplements and saving the country billions in healthcare costs," added Mister. "Any tax-revenue hit the federal government would experience would be offset by the overall savings to the healthcare system. It makes sense for consumers—and the country."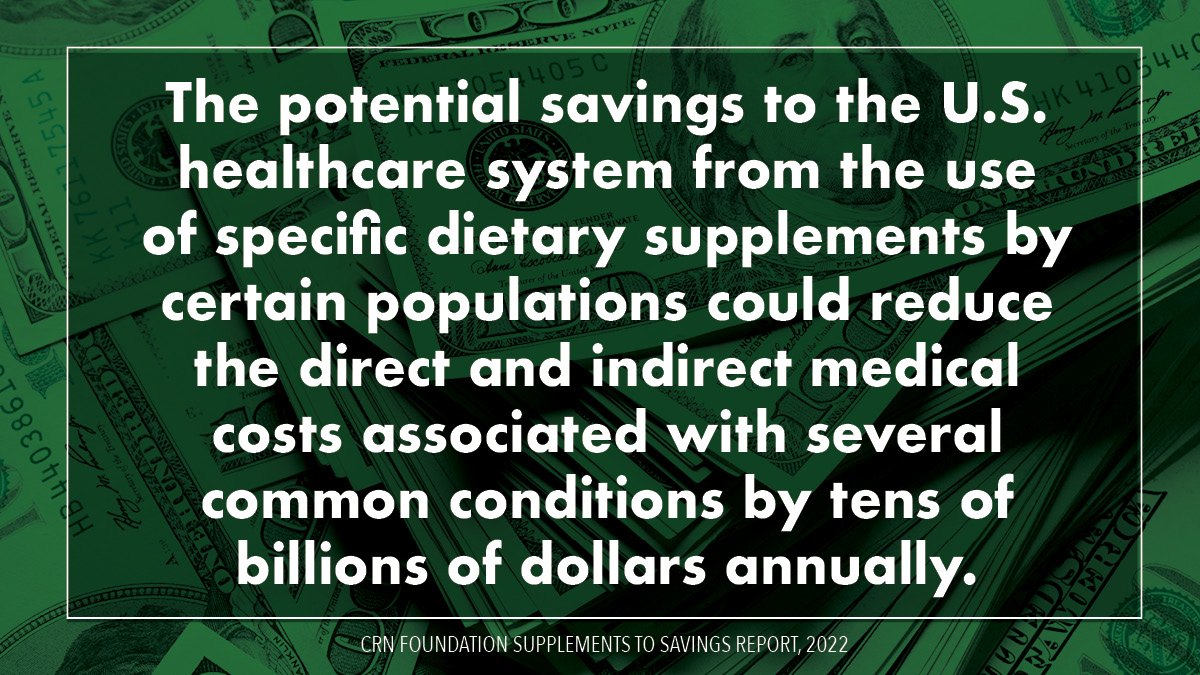 1 https://www.crnusa.org/newsroom/crn-reveals-survey-data-2022-consumer-survey-dietary-supplements 
2https://thefintechtimes.com/flexible-spending-accounts-fsas-in-2022-reimbursing-healthcare-spending
3 https://www.cnbc.com/2022/03/29/consumers-have-saved-more-than-100-billion-in-health-savings-accounts.html
4 https://www.crnusa.org/Supplement-Savings
This CRN/CHPA/Ipsos poll was conducted March 24–26, 2023, by Ipsos using the probability-based KnowledgePanel®. This poll is based on a nationally representative probability sample of 1,892 general population adults age 18 or older. The sample includes an oversample of 1,119 people who have a household HSA or FSA account. The margin of sampling error for this study is plus or minus 2.9 percentage points at the 95% confidence level, for results based on the entire sample of adults. For those with household HSA or FSA account, the margin of sampling error is plus or minus 3.0 percentage points at the 95% confidence level.
The Council for Responsible Nutrition (CRN), founded in 1973, is a Washington, D.C.-based trade association representing more than 200 dietary supplement and functional food manufacturers, ingredient suppliers, and companies providing services to those manufacturers and suppliers. In addition to complying with a host of federal and state regulations governing dietary supplements and food in the areas of manufacturing, marketing, quality control and safety, our manufacturer and supplier members also agree to adhere to additional voluntary guidelines as well as to CRN's Code of Ethics. Follow us on Twitter @CRN_Supplements and LinkedIn.
The Consumer Healthcare Products Association (CHPA), founded in 1881, is the national trade association representing the leading manufacturers and marketers of consumer healthcare products, including over-the-counter (OTC) medicines, dietary supplements, and consumer medical devices. CHPA is committed to empowering self-care by ensuring that Americans have access to products they can count on to be reliable, affordable, and convenient, while also delivering new and better ways to get and stay healthy. Visit www.chpa.org.