We are pleased to welcome you to the Council for Responsible Nutrition, the leading trade association of the dietary supplement industry, as an employee of one of our member companies. 
Spread the word:
Companies that join CRN can link as many of their employees as they wish to membership benefits, so feel free to share this information with your company colleagues—we encourage it!
Please bookmark this page as it references information to help you get engaged and stay plugged in to all CRN has to offer.
We invite you to follow CRN on social media if you have not already:  
LinkedIn and Twitter—@CRN_Supplements
Our quarterly reports are a great way to catch up on recent association activities.
In addition, we wanted to make sure you saw our 2022 annual report, "We Are CRN."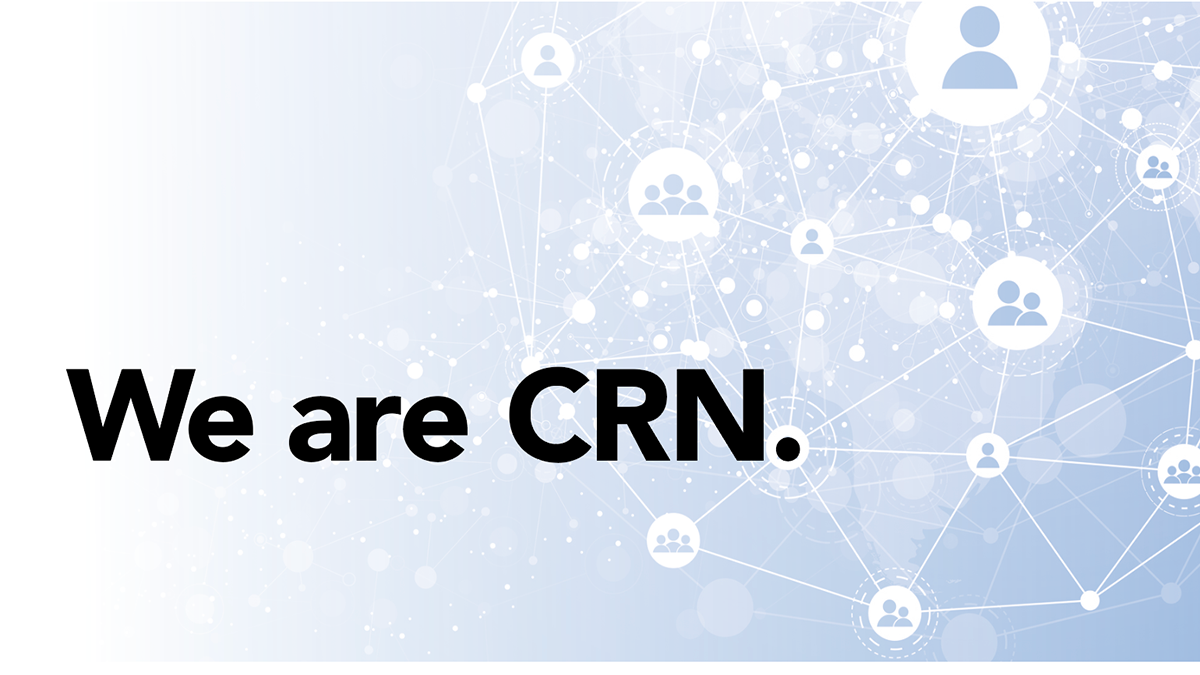 Thank you for your membership and please reach out us if you need any assistance!
Maya English, Senior Director, Membership, Education and Events
Gretchen Powers, Vice President, Marketing and Member Experience
---
Start up your engagement in 5 steps

Once you are in CRN's database as a member (contact Maya or Gretchen to be added) you should start receiving our CRN Supplement newsletter via email (archived highlights appear here, but the best place to get the full edition is via our app/email)—please let us know if you are not receiving it—info on safelisting CRN emails is here, and we're happy to help with additional follow up. It's best to be sure an safelist "noreply@axioshq.com" to receive the newsletter. 
You can now follow the steps below to set up your password for our Members Only website.
After that, you'll find some additional info on how to sign up for CRN committees, working groups and task forces, as well!
1. Click the LOG IN button on CRN's website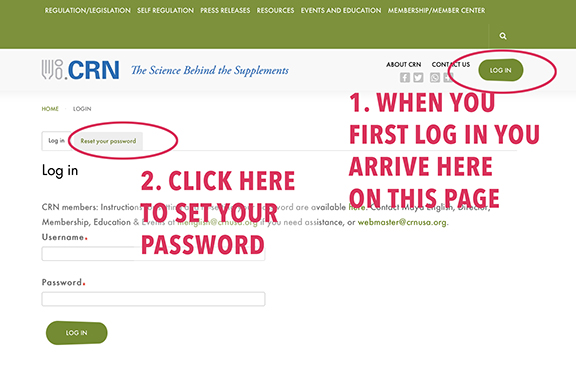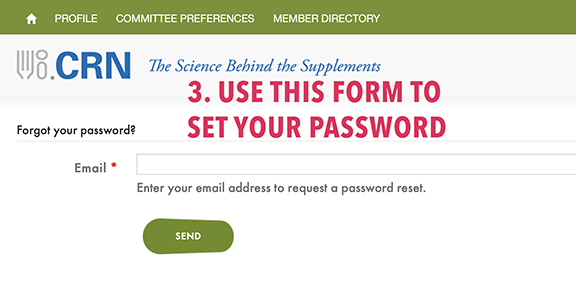 2. Set up your password
You will receive an email that looks like this with a password reset link. Click that link to reset your password.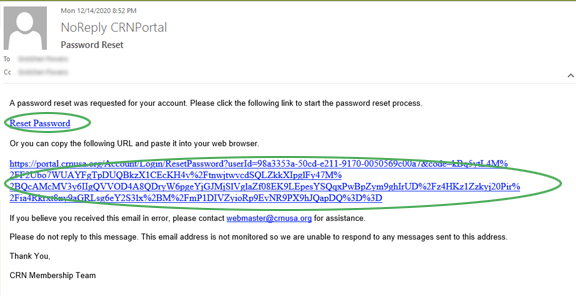 3. Get your CRN Member logo and explore CRN Member Groups on key areas of interest
Once logged in, you can check out CRN's members-only content—including CRN Member logos you can use to spotlight your standing as a leading responsible company in the supplement industry—and details on CRN's Committees, Working Groups, and Task Forces.
Participation in CRN's member groups is one of the best ways to make the most of your membership. Your degree of commitment and participation is your choice—stay updated with messages, attend virtual meetings, provide your feedback on CRN initiatives, or any combination. 
Standing committees include:

In addition CRN offers several working groups and task forces, such as:
4. Sign up for the CRN Member Groups of your choice
Visit the Committee Preferences tab of the self-service member portal to sign up for most CRN Committees, Working Groups and Task Forces—or let me or one of the membership team know and we can set you up on the back end.
For some groups that are not fully open access, such as the Senior Scientific Advisory Council, which accommodates one representative per company that must be in a science role, please reach out and we will add you. If you don't see the group you are looking for on the self-service portal, let us know and we can assist.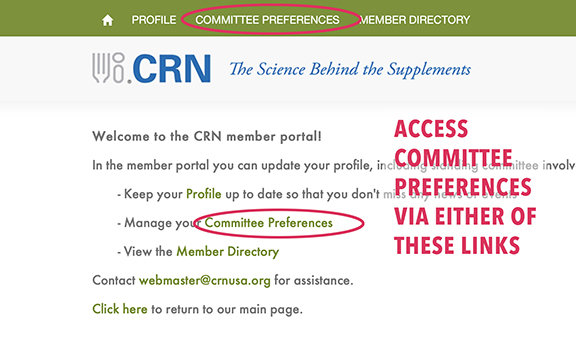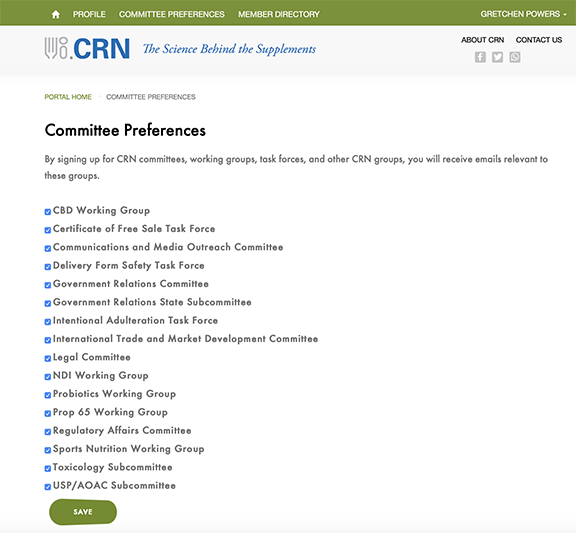 5. Participate in the next virtual meeting of your groups
After signing up for one of CRN's member groups, you will receive updates via email. These include invitations to virtual meetings to discuss hot topics, hear from guest speakers, and more. 
Thank you for your membership in CRN!
Please let us know if you need any assistance—we'd be happy to help!
Gretchen Powers, CRN Vice President, Marketing and Member Experience, would be glad to hop on a call to walk you through anything or answer questions about CRN and the services available to you!