TTKBYG virtual
CRN 2021 Events: Things to Know Before You Go—Virtual
Science in Session Agenda | Now, New, Next Agenda

---
We're looking forward to welcoming you virtually to CRN's annual events LIVE from The Ritz-Carlton, Laguna Niguel!
---
Virtual attendees should receive an email prior to the event with a unique link to access the livestream.
Please contact our registration team (events@crnusa.org / 202-624-1747) if you have any pre-event questions.
We recommend that you log in prior to the event to make sure you have no difficulties logging into the platform.
Preferred browsers are: Google Chrome, Mozilla Firefox, Microsoft Edge, or Apple Safari. Internet Explorer is not supported.
If you are connecting from a work-provided device, please make sure to disable your VPN if you experience streaming issues.
You may only use one device to log in. Access is controlled and only allows one device per email address. A phone or a tablet count as a device.
The livestream is best experienced on a laptop or desktop with a webcam. Cell phones and tablets may not provide you with the best access and may result in disruption or disconnection.
Watch your favorite music video on YouTube. This will help you make sure have a strong internet connection but also that your sound is working.
Make sure you are close to your wireless router. If you're joining us from your home, remind your family that you are streaming sessions and to refrain from streaming high bandwidth sites (Netflix, online video games, etc.)
---
EVENT APP
Stay updated on event announcements, pose session questions with the Q&A feature, connect with other attendees—on-site and virtual—and access helpful resources during and after the events. Get the app here and log in with your CRN member email and password. Non-members and those with additional questions, please contact Gretchen Powers with questions. You'll use the app for session Q&A and connecting with other attendees.
---
INTERACT WITH THE SPEAKERS/Q&A
Ask questions virtually! Use the CRN App to submit questions. A CRN staff member will be monitoring the questions that come in and ask them out loud to the speakers. Directions on where to access the Q&A are below.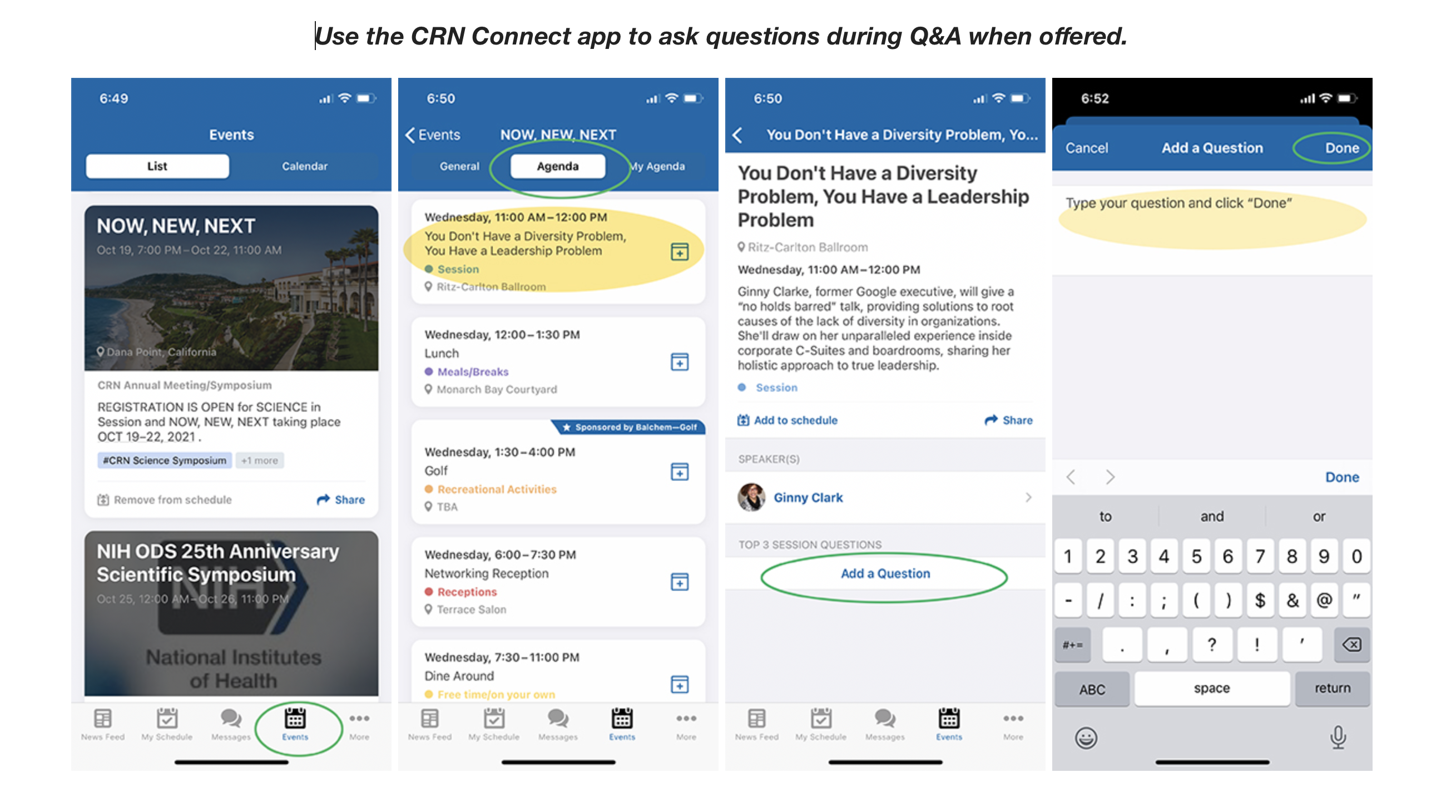 For more details on the Q&A and the app, click here.
---
CONNECT WITH ATTENDEES
See who's coming to the event by viewing the RSVP list here. Connect with fellow attendees, in-person or virtual, using the CRN app.
---