Catch up 050620
Catch up on supplement industry issues as we face new challenges together
MAY 6, 2020
CRN remains active on key supplement industry issues while addressing COVID-19 challenges and looking ahead to next steps
Steve Mister spoke to CRN members Monday via video about our work for you as we face new challenges responding to COVID-19—including returning our operations to full strength, safely and responsibly—as well as continuing to move forward our planned priority initiatives for 2020 where we can.
Many of you asked for additional information on the items Steve discussed, so we've gathered your need-to-know content on these topics from the CRN Daily Supplement in a review edition today to help you get caught up. In addition, we invite you to connect with CRN staff and committees to stay updated—and get involved. And be sure to check out CRN's COVID-19 webinar series, with new topics coming up and valuable on-demand resources now available.
---
Need assistance accessing CRN's Members Only content?
Contact Gretchen Powers (gpowers@crnusa.org) for help logging in.
---
Today: Take a 'Genius Break,' learn best practices for virtual meetings and how to communicate during a health crisis
Free for all CRN members. Join us from 2:30–4:30 pm Eastern. Register by 12 pm Eastern to ensure your spot. Contact Holly Vogtman with questions (hvogtman@crnusa.org).


NEXT WEEK: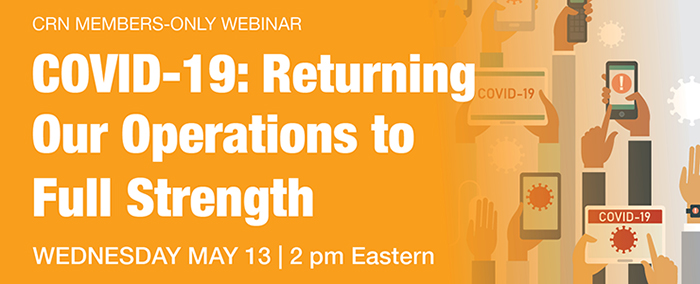 May 20
CRN Regulatory Affairs Committee Call
2:00 pm Eastern
May 21 
Webinar—COVID-19 and the Impact on Dietary Supplement Clinical Research
2:00 pm Eastern 
May 27
Webinar—COVID-19 and the Practitioner Dietary Supplement Channel: Challenges and Opportunities
2:00 pm Eastern
May 28
USP Dietary Supplement Stakeholder Forum
—Griffiths, attending
May 29
Botanical Safety Consortium public meeting
—Griffiths, attending
May 29
Industry-wide webinar with Nutritional Outlook—COVID-19 and Immune Health Claims: What NOT to Say (Do's and Don'ts)
—Olsen, presenting
June 1–4
ASN Nutrition Live Online
—Huber; Griffiths; Nguyen
It's on—the CRN/ACI Legal, Regulatory and Compliance Forum will be presented via webcast
Learn more and register by June 5 for the best rates via the ACI website. CRN members save an additional 10% with the code P10-669-CRN20. For this year's event webcast, the add-on workshops—normally $1200—are included.