Available-for-purchase consumer survey reaffirms the vital role supplementation plays in the lives of most Americans
Washington, D.C., September 30, 2019—In its 20th year, the CRN Consumer Survey on Dietary Supplements reveals the highest overall dietary supplement usage to date, with 77 percent of Americans reporting they consume dietary supplements. The survey reports the majority of both males and females, aged 18+, take dietary supplements, which is in line with previous surveys' findings. Among all the age groups, adults between the ages 35 – 54 have the highest usage of dietary supplements at 81 percent. 

"While the industry continues to innovate, there is no denying that these regulated products have become mainstream. More than three quarters of Americans are taking dietary supplements each year—a crystal clear trend that serves as an indicator of the vital role supplementation plays in their overall health and wellness regimens," said Nancy Weindruch, vice president, communications, Council for Responsible Nutrition (CRN).  
Who Takes Dietary Supplements? 77 percent of U.S. adults take dietary supplements.
79 percent of female adults 
74 percent of male adults 
70 percent of adults 18 – 34
81 percent of adults 35 – 54
79 percent of adults 55+ 
83 percent of adults with children under 18 in the household
75 percent of adults without children under 18 in the household
81 percent of adults employed full-time
77 percent of adults employed part-time
68 percent of adults without employment
76 percent of retired adults
81 percent of adults who are married
73 percent of adults who live in the Northeast
74 percent of adults who live in the Midwest
80 percent of adults who live in the South
78 percent of adults who live in the West
With respect to the types of supplements being taken, CRN's 2019 survey found that vitamins & minerals continue to be the most commonly consumed supplement category, with 76 percent of Americans having taken these products in the past twelve months. The second most popular category is specialty supplements (40 percent), followed by herbals and botanicals (39 percent), sports nutrition supplements (28 percent), and weight management supplements (17 percent).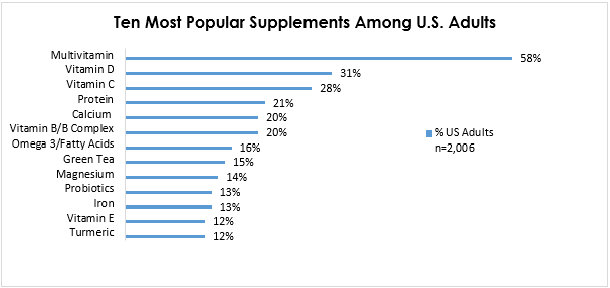 Results from the 2019 survey also reaffirmed strong consumer confidence and trust in dietary supplements and the dietary supplement industry, respectively; identified growth in specific categories, such as herbals and botanicals, as well as in specific supplements, such as vitamin C and melatonin; and pinpointed consumers' key motivators for taking dietary supplements. More on these insights will be released later this year along with other 2019 survey findings, including brand new statistics on usage of CBD and nootropics, e-commerce habits and delivery form preferences. 

"The dietary supplement industry's success in bringing to market safe, high-quality dietary supplement products that are an increasingly important part of Americans' self-care regimens is reflected in our survey results," said Weindruch. "As always, we cannot rest on our laurels. Our survey demonstrates that supplement users have evolving preferences and needs. Brand managers, marketing executives, or anyone looking for additional consumer insights to better understand this dynamic and rapidly growing industry will benefit from investing in the 2019 survey results," she concluded.

This year, both CRN members and non-members are welcome to purchase the results of the 2019 CRN Consumer Survey on Dietary Supplements. For more information, or to purchase the 2019 survey, contact Holly Vogtman (hvogtman@crnusa.org). 

About the Survey
Conducted annually since 2000, the CRN Consumer Survey on Dietary Supplements has served as the leading resource for statistics on usage of dietary supplements. The 2019 survey was fielded Aug. 22-26, 2019, by Ipsos, and was funded by CRN. The survey was conducted online in English and included a national sample of 2,006 adults aged 18 and older living in the United States, including 1,529 among those who are considered supplement users. The precision of Ipsos online polls are measured using a credibility interval. In this case, the poll has a credibility interval of plus or minus 2.5 percentage points for all respondents, and plus or minus 2.9 percentage points for supplement users.
Note to Editor: The Council for Responsible Nutrition (CRN), founded in 1973, is a Washington, D.C.-based trade association representing 150+ dietary supplement and functional food manufacturers, ingredient suppliers, and companies providing services to those manufacturers and suppliers. In addition to complying with a host of federal and state regulations governing dietary supplements and food in the areas of manufacturing, marketing, quality control and safety, our manufacturer and supplier members also agree to adhere to additional voluntary guidelines as well as to CRN's Code of Ethics. Visit www.crnusa.org. Follow us on Twitter @CRN_Supplements, Facebook, and LinkedIn.