Report from Carlsbad—The 2019 CRN Conference and Day of Science
PLUS, SPECIAL UNLOCKED CONTENT FOR PROSPECTIVE MEMBERS ON:
Establishing a legal pathway for CBD
Evaluation of mandatory product listing
Harmonization of third-party GMPs
Protecting the growing probiotics sector
Preparation for FDA modernization of dietary supplement regulations
Questions? Please contact Carl Hyland (chyland@crnusa.org).
---
Establishing a legal pathway for CBD   
For CBD, we're sharing most recent items first to provide the best current update...
FROM OUR SEPTEMBER 16 EDITION:
CRN shapes pathway to market for CBD, collaborates on legislative text for Senate Majority Leader McConnell
CRN, along with three fellow industry trade organizations, recently provided draft bill and report language permitting the use of CBD in dietary supplements to Senate Majority Leader Mitch McConnell (R-KY) for inclusion in the FY2020 Agriculture Appropriations bill. Following extensive engagement between the Majority Leader's office, the American Herbal Products Association (AHPA), the Consumer Healthcare Products Association (CHPA), the United Natural Products Alliance (UNPA) and CRN, Senator McConnell's staff requested draft legislative text from industry, on which the four trade associations collaborated to reach consensus.
The bill and report language would make hemp-derived CBD a lawful dietary ingredient, notwithstanding the drug/investigational new drug provisions of the statute, to carry out Congress' intent under the 2018 Farm Bill that these products should be legal. As a spending agreement was reached prior to the start of Congress' August recess, these bills are expected to be of top priority in the coming weeks as Congress approaches a Sept. 30 government funding deadline. Read the full submitted draft language here. Contact Megan Olsen with questions.
See our latest press release: Safety and Innovation for CBD Starts with a Legal Pathway to Market
Follow us on LinkedIn.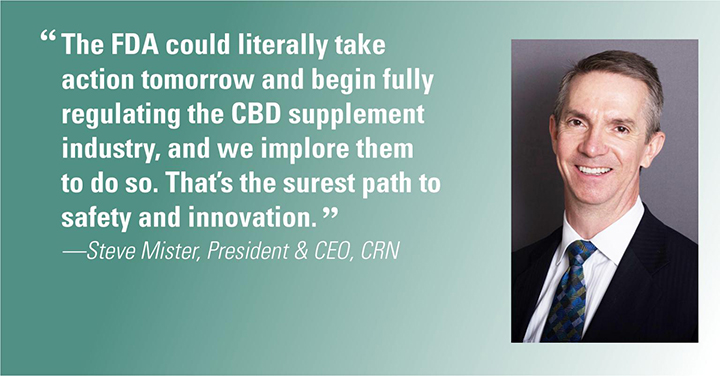 ---
---
Steve Mister at Expo East's Hemp & CBD Summit on CBD regulation
For companies marketing CBD products, "if you're playing in the dietary supplement swim lane...you have to play by all the other rules that oversee the supplement industry," CRN's Steve Mister recently told attendees during a panel session on CBD regulation at the annual Natural Products Expo East. Mr. Mister also discussed safety concerns posed by FDA, noting that if the agency wants safety data on CBD, it first has to establish a regulatory path to market, incentivizing large companies with investment abilities to enter and conduct safety research. With the barrier-to-entry of definitional clarification addressed, Mr. Mister continued, safety questions will be resolved during the NDI process.
The panel session, "Regulators Gonna Regulate," took place during last week's full-day Hemp & CBD Summit and detailed differences in state CBD regulations, the current state of federal activity and how to market hemp CBD supplements in a responsible, compliant manner. Contact Steve Mister with questions.
FROM OUR  AUGUST 19 EDITION:
FDA has the authority to make CBD a supplement under DSHEA, CRN says in response to Gottlieb op-ed
"FDA doesn't have to sacrifice safety, but they don't need to have all the answers right off the bat, which is what they're trying to do," when it comes to CBD, CRN's Steve Mister recently told Whole Foods Magazine, responding to former FDA Commissioner Dr. Scott Gottlieb's recent op-ed in the Washington Post, "The CBD craze is getting out of hand. The FDA needs to act." "We certainly agree with Dr. Gottlieb's urgency, but we disagree with him calling on Congress to take FDA off the hook."  NutraIngredients also included Mr. Mister's critique of Dr. Gottlieb's assertions in its article, "Safety is not a lynchpin of CBD/supplement debate, CRN says." While CRN and Dr. Gottlieb align on the need for swift action on CBD to protect consumers, CRN believes a legal pathway to market for CBD as a dietary supplement or food does not necessitate legislation nor require a multiyear process requiring FDA to gather safety data. Mr. Mister will discuss the regulatory status of hemp/CBD at Natural Products Expo East's Hemp & CBD Summit, Sept. 11 in Baltimore. CRN continues to work with FDA and Congress to establish a lawful pathway to market for CBD as a dietary supplement and food.
FROM OUR JULY 22 EDITION:
FDA inaction on CBD creates public health concern, says CRN 
FDA has the tools to adequately and expeditiously address any safety concerns about hemp-derived cannabidiol (CBD) for use in food and supplements—the agency now only needs to develop the pathway to access this regulatory framework, CRN stated in written comments submitted July 16 following a May 31 public hearing at which CRN also delivered oral comments. In its submission, CRN reiterated that "FDA needs to act quickly and decisively to address the substantial market that has already developed for hemp-derived CBD products and ensure consumers, who have expressed strong interest in these products, have access to safe products."
"FDA's inaction, currently and if the agency declines to promulgate a regulation in the future, creates a public health concern in its own right," CRN noted in its comments. "For example, entities that have significant experience with dietary supplement and food products, including many CRN members, are reluctant to enter the market until the legal status of CBD in supplements is clarified. Companies that may not understand dietary supplement or food regulations—or may not care to follow these regulations—can use this opportunity to fill a marketplace void and may be producing questionable and even dangerous products."
In its written comments, CRN highlighted extensive reviews from authoritative sources finding CBD likely to be safe for healthy adults. Not only does FDA already have the authority to allow for such CBD products, but exercising this authority will provide FDA the flexibility to appropriately address safety on a product-specific basis, CRN noted. CRN concluded, "FDA can swiftly bring clarity to the hemp-derived CBD supplement and food market, while upholding the agency's public health mission to ensure that consumers have access to safe products they can trust."
Pictured here: CRN's Steve Mister and Megan Olsen deliver comments on CBD before FDA. See comments and press coverage here.

---
Education on revised labeling

CRN Launched its Be Label Wise campaign in April and is continuing to work with partners to get the word out...
FROM OUR APRIL 1 EDITION:
CRN launches new campaign: Be Label Wise and help consumers understand the changes to the 'Supplement Facts' label
What is black and white, and about to undergo a major makeover? The Supplement Facts label, of course! CRN is launching a new campaign this week—Label Wise—to help stakeholders understand these changes. Many industry stakeholders are already in-the-know about changes to the Supplement Facts label mandated by FDA, to take effect for all companies by 2021 (2020 for manufacturers with $10 million+ in annual sales)—and now it's time to make sure consumers and healthcare professionals understand what the changes mean for them. CRN's Label Wise campaign, anchored by the website: www.BeLabelWise.org, will include an explainer video and offers a fact sheet, details of how to read a dietary supplement label, an infographic, social media content (#LabelWise), conversion calculators, and more. 
In addition, CRN President & CEO Steve Mister recently wrote a bylined article for Natural Products INSIDER  with background on the changes and a call for consumer education. CRN is also hosting a members-only webinar, "Change: Coming Soon to a Label Near You," on April 23 for companies to better understand dietary supplement label changes and learn more about the consumer education resources available to them through the Label Wise campaign.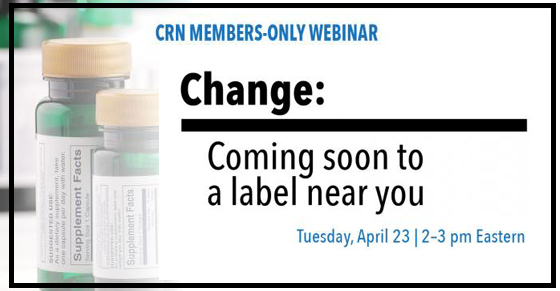 WEBINAR AVAILABLE ON DEMAND—APPLY FOR MEMBERSHIP AND VIEW CRN MEMBER WEBINARS NOW—GET DETAILS FROM CARL HYLAND
FROM OUR APRIL 29 EDITION:
CRN's Wommack talks Supplement Facts label changes
CRN's new Label Wise consumer education campaign is "another example of a regulated industry following along with the newest rules put out by a vigilant FDA," CRN's Brian Wommack explained in a bylined article for Nutrition Industry Executive's April 2019 issue."The most noticeable changes are new percent daily values (DVs)," Mr. Wommack said. He noted other changes will occur in units of measure for vitamins A, D, and E from International Units to the more common milligrams/micrograms. He pointed readers to the BeLabelWise.org website—with an explainer video, fact sheet, and an infographic—as a source for materials to help communicate key changes to consumers. Mr. Wommack also spoke about the Label Wise campaign in a free CRN members-only webinar, now available on demand. Contact Gretchen Powers with questions about how to use the Label Wise materials or if you would like access to native files that can be branded to your organization.

FROM OUR MAY 13 EDITION:
Label Wise campaign combats consumer confusion 
CRN's new Label Wise education campaign is helping consumers understand changes to the Supplement Facts labels on the products they take, CRN's Brian Wommack explained in a video for Nutraceuticals World."Because the dates to comply with the new regulation are unfolding over a long period of time, there are actually some [new labels] that are already on the market. The same product could be on the shelf with two different labels at the same time, so that can be alarming for consumers," Mr. Wommack noted. He directed viewers to the BeLabelWise.org website for materials to help communicate key changes to consumers. CRN members are encouraged to use these materials in their own communications. 
FROM OUR SEPTEMBER 3 EDITION:
CVS consumer health and wellness VP meets with CRN Retailer Relations Forum
Over 1,600 products from more than 150 suppliers have now gone through CVS' new Tested to be Trusted program for supplements, according to CVS Vice President of Consumer Health and Wellness Brian Eason, who spoke with members of CRN's Retailer Relations Forum at the group's first in-person event last week. The Forum, composed of senior sales and customer officers at CRN member companies that sell finished products to retail, convened in Boston during the National Association of Chain Drug Stores' Total Store Expo to foster their business with key customers in the retail space. Mr. Eason also shared CVS's vision for expanding its HealthHUBs, which have the potential to include a wellness approach to healthcare that could incentivize self-care opportunities throughout the store, including dietary supplements. CRN's Steve Mister and Lisa Buono of IRI also presented to the group, discussing CRN's Label Wise campaign in the context of manufacturer-retailer relations and offering some thought provoking insights into the growth of the nutritional category within the consumer self-care sector. 
---
Evaluation of mandatory product listing
FROM OUR MARCH 18 EDITION:
CRN stakes out position on proposed mandatory product listing
CRN's Board of Directors also approved a statement expressing support in concept for a requirement that dietary supplement marketers provide their labels to a mandatory central collection of products in the market. On Feb. 11, FDA Commissioner Gottlieb issued a statement proposing a "product listing requirement" and offered that it improve transparency in the marketplace by "facilitat[ing] efficient enforcement of the law and establish[ing] new mechanisms to identify bad actors." CRN's Supplement OWL creates an industry-run label registry on a voluntary basis.
The Board's motion expresses support for "increased marketplace transparency that would be provided by the mandatory submission of product labels for dietary supplements that would make the kind of transparency that has been initiated by the industry's voluntary Supplement OWL an industry requirement for all." It further expresses CRN's commitment to develop the principles for a mandatory submission of labels that will address the concerns expressed by the industry while still serving the goal of marketplace transparency that FDA is seeking."  FDA expects to announce a public meeting in May that will invite comment on this proposal and other ways the agency can modernize its oversight of dietary supplements.
---
Harmonization of third-party GMPs
OUR APRIL 10 PRESS RELEASE:
CRN Applauds Efforts to Harmonize Dietary Supplement Audits — Expresses Support for Supplement Safety & Compliance Initiative Goals
"...As a member of SSCI, CRN is optimistic that the initiative will bring stability and predictability to supplement safety and quality audit standards, similar to what the Global Food Safety Initiative (GFSI) did for the food industry. By assuring that products in the supply chain meet the expectations of manufacturers, retailers, regulators and ultimately consumers, SSCI will be able to provide adequate assurances that safety and quality indicators are being met, such as GMP compliance, ingredient identity, and product purity and composition, and to do so in an efficient manner.

CRN expects industry to recognize the importance of aligning audit initiatives and looks forward to SSCI collaborating with other groups with similar goals, such as the Global Retailers and Manufacturers Alliance (GRMA). We're hopeful that groups like SSCI and GRMA will work together to standardize and improve audit processes and create consistent, compatible and efficient solutions that best serve all aspects of the industry..." Read more...
FROM OUR APRIL 15 EDITION:
Save the date, April 30, for GRMA's webinar on dietary supplement audit standards
WEBINAR NOW AVAILABLE ON DEMAND
The Global Retailer and Manufacturer Alliance (GRMA) is offering a free webinar for CRN members on Tuesday, April 30, from 2–3:30 pm Eastern. Please save the date and plan to join CRN and GRMA to learn about the new 455-ANSI-Accredited Auditing Standards developed in collaboration with retailers, manufacturers, and other industry stakeholders. Learn more here.  If you have questions or suggestions for content to be covered by GRMA and other stakeholders during this webinar, please contact Megan Olsen.  

FROM OUR AUGUST 19 EDITION:
GRMA announces global benchmarking of audit scheme, recognizes CRN's Atkinson
The Global Retailer and Manufacturer Alliance (GRMA) recently announced during its annual Summit that the alliance has been invited by the Global Food Safety Initiative (GFSI) to have its Dietary Supplement (DS) GMP Audit Scheme program globally benchmarked as part of GFSI's safe foods initiative, gaining worldwide recognition for GRMA's program. "This is a giant step forward for our industry and helping to advance consumer confidence," stated GRMA Board President Mike Finamore, who is also the CEO of Gemini Pharmaceuticals and serves on CRN's Board of Directors. In addition, CRN's Gisele Atkinson was honored during the summit with the Key Contributor Award in recognition of her contributions to the GRMA over the past year. The GRMA annual Summit offers major retailers, manufacturers, certification bodies, trade associations and other stakeholders opportunities to network and learn how to improve quality and safety throughout the supply chain. Learn more about GRMA and the DS GMP Audit Scheme here.
---
Protecting the growing probiotics sector
FROM OUR SEPTEMBER 3 EDITION:
Action is needed to eliminate confusion over probiotic ingredient labeling, CRN tells FDA in recent letter
"Declaration of dietary ingredients on a Supplement Facts label should provide the most meaningful information to consumers, and in the case of probiotics, live microorganisms are the beneficial and relevant portion of the ingredient," CRN stated in a recent letter to FDA Office of Dietary Supplement Programs (ODSP) Director Steven Tave. The Aug. 15 letter is CRN's latest effort to urge the agency to revise the Draft Guidance to permit the declaration of ingredient quantity for probiotic dietary supplements by identifying the amount of live microbial organisms supplement labels in lieu of general requirements that ingredient quantity be declared by metric weight. CRN has been urging FDA to make the change since 2014. CRN explains that weight is not an appropriate unit of measure for live microbial ingredients, as it represents the total cellular mass or both live and dead microorganisms. FDA's current policy requiring both colony forming units (CFUs) and metric weight to be listed on labels creates confusion, disregards CFUs as the industry best practice for quantification and has resulted in inconsistencies between state and federal requirements that leave responsible industry members in an untenable position. The letter concludes, "FDA should eliminate from the Draft Guidance the condition that live microbial quantity must be listed in terms of weight in addition to quantity in CFUs."
FROM OUR APRIL 29 EDITION:
CRN's Shao explores regulatory challenges for probiotics at Transnational Microbiome Conference
Regulatory implications for probiotics pose an uphill battle for companies to bring their products to market, CRN's Andrew Shao, Ph.D., told attendees at the Transnational Microbiome Conference in Boston, April 16–18. Dr. Shao's presentation, "Bringing Probiotic Products from Bench to Market in the U.S.: Regulatory Implications," focused on regulatory challenges that arise along potential pathways to market for probiotics—including via food, drugs/biologics and dietary supplements. Significant challenges exist within each pathway, in part due to the complexity of and safety concerns with probiotics, he explained. He further observed that FDA's interpretation of a legal dietary ingredient could be the most significant barrier for bringing novel probiotics to market. 
Conflicting approaches among the pathways has created confusion in the marketplace, Dr. Shao added: specifically, FDA's enforcement discretion surrounding the declaration of live microbial ingredients in the Supplement Facts label. He highlighted the Best Practices Guidelines for Probiotics, developed by CRN and the International Probiotics Association (IPA), as a model for responsible industry to address labeling, stability testing, and storage recommendations for probiotic-containing dietary supplements and functional food products. 
In addition, he observed that despite FDA's announcement of enforcement discretion related to the declaration of live microbial ingredients in the Supplement Facts label, significant confusion remains in the probiotics marketplace—as CRN predicted in its 2018 response to Draft Guidance on probiotics labeling. Contact Andrew Shao with questions.
FROM OUR MARCH 18 EDITION:
California considers problematic probiotics labeling legislation
CRN is monitoring California Assembly Bill 1178, legislation that would affect probiotics supplements by requiring manufacturers and distributors of dietary supplements sold in California that contain live microorganisms to include on labels the genus, species, and strain of each live microorganism and the total estimated quantity of all live microorganisms in the supplement at the end of its shelf life.
The bill, introduced by Assemblyman William Quirk, will have a hearing in the Assembly Health Committee on April 2 and has a way to go before it would become law, but CRN will oppose the bill because it would create state labeling requirements that are inconsistent with federal regulations. CRN will reach out to Rep. Quirk asking him to amend the language and will lobby state offices during its Day in Sacramento.
This bill imposes unnecessary burdens on manufacturers and distributors of probiotic dietary supplements, particularly companies also participating in markets across the country. FDA issued draft guidance for probiotic labeling in September 2018 with similar requirements—which CRN noted could yield inaccurate product labels—expressing its intent to exercise enforcement discretion. With California potentially implementing its own regulations, companies may be forced to comply with a variety of incompatible labeling requirements.
---
Preparation for FDA modernization of dietary supplement regulations  
FROM OUR FEBRUARY 18 EDITION:
FDA announces reforms of its dietary supplement enforcement, raises mandatory product listing; CRN applauds action but asks for specifics
In a sweeping press statement, FDA Commissioner Scott Gottlieb, M.D., this week announced "one of the most significant modernizations of dietary supplement regulation and oversight in more than 25 years," calling for new approaches that balance policies to promote innovation and efficiency with increased enforcement to protect the public from potential safety issues. CRN reacted with a prepared responseconcurrently with FDA's announcement, highlighting the Commissioner's shared vision to further develop the thriving, innovative and safe marketplace for dietary supplements. CRN commended his acknowledgment that supplements, as Gottlieb stated, play an important role as "we strive to stay healthy," and have "become a routine part of the American lifestyle."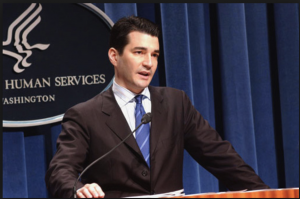 Commissioner Gottlieb offered two possible changes to DSHEA: amending the law to create avenues for dietary supplement exclusivity and add a product listing requirement. He noted that a mandatory listing could improve transparency in the marketplace, help facilitate efficient enforcement of the law, and establish new mechanisms to identify bad actors. FDA promises a public meeting this spring to consider the changes and seek stakeholder input. CRN did not comment on the proposed mandatory registry.
CRN's Steve Mister was quoted in coverage of FDA's announcement by several major outlets including the New York Times, Washington Post, and the Wall Street Journal. In addition, Mr. Mister appeared on CBS News. Read more and link to media clips.
---


Ready to take action and join CRN's roster of responsible industry leaders committed to our mission?
Apply before our annual conference and attend at the member rate! Contact Carl Hyland for details (chyland@crnusa.org).